Danielle Grotjahn wins 2021 Damon Runyon-Rachleff Innovation Award for approach to solving key mystery of cancer
---
Published:
January 14, 2021
Author:
Office of Marketing and Communications
Scripps Research's Danielle Grotjahn, PhD, has been named one of seven early career scientists to win the prestigious 2021 Damon Runyon-Rachleff Innovation Award, which provides each recipient with up to $800,000 over four years to advance novel approaches to fighting cancer.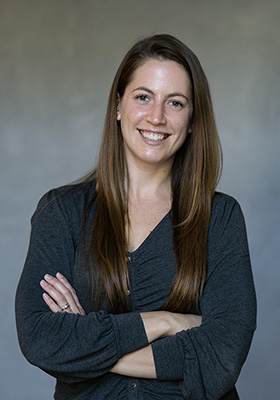 Grotjahn, a Scripps Fellow in the Department of Integrative Structural and Computational Biology, will use the funds to study uncontrolled fragmentation of mitochondria, the microscopic compartments that generate energy for cells. This fragmentation is a unifying hallmark of many types of cancer, but the cellular processes that make it happen are poorly understood.
Grotjahn will use powerful electron microscopes and pioneering image processing approaches to visualize this process inside cancer cells.
In announcing the winners, the Damon Runyon Cancer Research Foundation said the awards program seeks out "exceptionally creative thinkers" with a clear vision and passion for curing cancer. Awardees are selected through a highly competitive and rigorous process by a scientific committee comprised of leading cancer researchers who are innovators themselves.
The foundation said Grotjahn's work "has the potential to identify new targets to block mitochondrial fragmentation as a future therapeutic strategy to prevent cancerous cell proliferation and tumor growth."
The generous funding from the award will enable Grotjahn to carve out an exciting and unique research niche at an early but critical point in her career as an independent investigator, she said.
"By using cutting-edge cryo-electron microscopy techniques that bridge the fields of structural and cell biology, we aim to revolutionize how the field visualizes the interior architecture of proliferating cancer cells and pioneer an entirely new frontier in cancer cell biology research," she said.
Grotjahn earned her doctorate in biophysics at Scripps Research in 2018. After serving as a postdoctoral researcher at the California Institute of Technology, she returned to Scripps Research in 2019 when she was named a Scripps Fellow.
---