Developing Therapies to Prevent Neuronal Synaptic Damage
Our laboratory uses basic molecular signaling pathways to protect synapses and prevent neuronal injury in normal aging and various neurodegenerative diseases, including Alzheimer's disease, Parkinson's disease, stroke (Vascular dementia), and other forms of dementia. Neuronal synaptic damage is curtailed by preventing excessive activity of the NMDA subtype of glutamate receptor and its downstream effectors (see figure and legend). 
The laboratory is best known for discovering the mechanism of action and contributing to the clinical development of the FDA-approved Alzheimer's drug, memantine (Namenda®, NamendaXR®, Namzaric®), and for co-discovering the posttranslational redox modification, S-nitrosylation. Recently, we combined memantine with S-nitrosylation chemistry to produce a new drug called NitroSynapsin, which displays disease-modifying activity in animal models of Alzheimer's disease, both protecting synapses and improving neurobehavioral deficits.
Our group also characterized HIV-related pathways to neuronal damage, discovered the NR3 (now known at GluN3) family of modulatory NMDA-type glutamate receptor subunits in the brain, characterized the molecular pathways for protecting neurons with Erythropoietin, and discovered the transcription factor MEF2C. Members of the group showed that MEF2C activity is regulated by S-nitrosylation and serves as a master switch for neurogenesis from human neural stem cells. Dysregulated MEF2C is involved in the pathogenesis of Parkinson's disease, Alzheimer's disease, Autism-Spectrum Disorder, and Vascular dementia.
Ongoing research in the lab uses "disease-in-a-dish" models generated from patient-derived human induced pluripotent stem cells (hiPSCs) in 2D cultures and 3D-brain organoids ("mini-brains") as well as in transgenic mouse models. These models of neurodegenerative and neurodevelopmental disease are used to study aberrant redox/S-nitrosylation pathways to synaptic damage. Using these approaches, the laboratory is developing novel drugs to combat Alzheimer's disease (AD), Parkinson's disease (PD), Vascular dementia (VaD), and other neurodegenerative disorders, as well as Autism-Spectrum Disorder (ASD) and Intellectual and Developmental Disability (IDD). Tissue culture models complement whole-animal approaches. A plethora of techniques are employed including chemical biology, molecular biology, patch-clamp electrophysiology, calcium imaging, and neurobehavioral paradigms.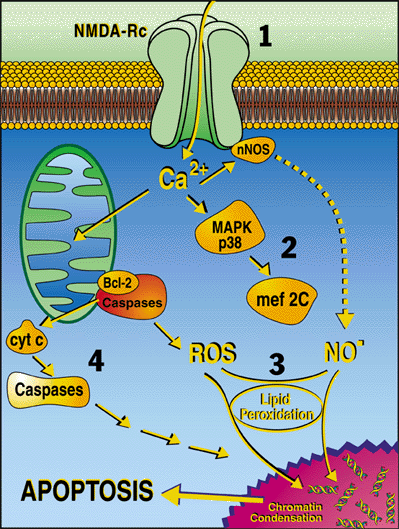 (Figure Legend) Schematic illustration of the signaling pathways discovered or characterized in the Neurodegenerative Disease Program that can be targeted to prevent neuronal apoptosis and thus treat various neurologic diseases. Drug or molecular therapies are being developed to (1) antagonize NMDA receptors (NMDA-Rc), (2) modulate activation of the p38 mitogen activated kinase (MAPK) - MEF2C (transcription factor) pathway, (3) prevent toxic reactions of free radicals such as nitric oxide (NO) and reactive oxygen species (ROS) by activating the endogenous Nrf2/ARE pathway, and (4) inhibit apoptosis-inducing enzymes including caspases.