This Lab was founded by Professor Albert Eschenmoser in 1996; he retired in 2009.
Professor Albert Eschenmoser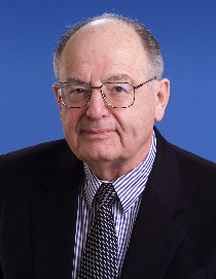 Links
http://en.wikipedia.org/wiki/Albert_Eschenmoser
https://www.youtube.com/watch?v=56edCfCJF3I
https://www.bi.id.ethz.ch/personensuche/detail.do?pid=1306A&lang=EN
Abstract
"We'll never be able to know" is a truism that leads to resignation with respect to any experimental effort to search for the chemistry of life's origin. But such resignation runs radically counter to the challenge imposed upon chemistry as a natural science. Notwithstanding the prognosis according to which the shortest path to understanding the metamorphosis of the chemical into the biological is by way of experimental modeling of "artificial chemical life", the scientific search for the route nature adopted in creating the life we know will arguably never truly end. It is, after all, part of the search for our own origin.
http://www.chemheritage.org/discover/collections/oral-histories/details/eschenmoser-albert.aspx
http://www.fi.edu/winners/2008/eschenmoser_albert.faw?winner_id=4414
http://onlinelibrary.wiley.com/doi/10.1002/hlca.19960790503/abstract
http://pubs.rsc.org/en/Content/ArticleLanding/2004/CC/b401124b
http://www.sciencedirect.com/science/article/pii/S0040402007017176
(An interview with Professor Albert Eschenmoser)
http://www.scripps.edu/newsandviews/e_20080421/eschenmoser.html
Photos