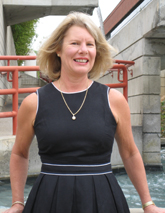 Cindy L. Ehlers, PhD
Curriculum Vitae
Professional Education:
B.S., 1973 - Physiology, University of California, Davis, CA
Ph.D., 1977 - Physiology, minor in Pharmacology, University of California, Davis, CA
Employment History:
2008 - present:
Professor, The Scripps Research Institute,
Molecular and Cellular Neurosciences Department (formerly Molecular and Integrative Neurosciences)
1989 - 2008:
Associate Professor (with tenure), The Scripps Research Institute,
Department of Neuropharmacology, La Jolla CA
1983 - 1989:
Assistant Professor, Research Institute of Scripps Clinic,
Department of Neuropharmacology, La Jolla CA
1979 - 1983:
Senior Research Associate, Arthur Vining Davis Center for Behavioral Neurobiology,
The Salk Institute for Biological Studies, San Diego, CA
1977 - 1979:
University of California, Los Angeles, Department of Anatomy and Brain Research Institute, Postdoctoral Fellow, Los Angeles, CA
1973 - 1977:
University of California, Davis, Departments of Physiology and Pharmacology,
Predoctoral fellow, Davis, CA
University Appointments:
Professor of Psychiatry (adjunct), University of Pittsburgh, Pittsburgh, PA
Professor of Psychiatry (adjunct), University of California, San Diego, CA
Honors/Awards:
Citation for outstanding performance in Physiology, UC Davis
Giannini Foundation Fellow, UCLA
Klingenstein Foundation Fellow, The Salk Institute
Research Scientist Development Awards, NIAAA
Research Scientist, MacArthur Foundation Network on the Psychobiology of Depression
Thurman Award, UNC Bowles Center for Alcohol Studies
National Institutes of Health (NIH) Merit Award
Wendy and Stanley Marsh 3 Endowed Lectureship in Pharmacology and Neurochemistry of Substance Abuse/Addiction Disorders
RSA's 2014 Distinguished Researcher Award

Societies:
Fellow, American College of Neuropsychopharmacology
Research Society on Alcoholism
Society for Neuroscience
Society for Biological Psychiatry
International Behavioural and Neural Genetics Society
International Society for Biomedical Research on Alcoholism
International Society for Psychoneuroendocrinology (scientific secretariat, 1997)
International Society for Twin Studies
Advisory Board Memberships:
NIAAA council 2007-2010
Extramural Advisory Board Member NIAAA 2004-present.
Steering Committee member National Advisory Board on Underage Drinking 2004-present.
Board of Directors, Research Society for Alcoholism, 1999-2002.
Scientific Advisory Board for the Alcohol Research Center University of North Carolina, Skipper Bowles Center 1997-present
Scientific Advisory Board Alcohol Research Center Howard University 2004-present.
Scientific Advisory Board Alcohol Research Center UC Berkeley CA 2004-present.
Chair: Education & Training Committee , ACNP, 1998,1999
Member, Committee on Social Outcomes, San Diego Foundation 1998-2000.
Member, program committee ACNP 2000-2003
Chairman, Awards Committee RSA, 2000-present.
Consultant, Native American Graves protection and repatriation committee, culture and language retention committee, Luiseno nation-inter tribal coalition, 1998-present.
Journal Associate Editorships:
Alcoholism: Clinical Experimental Research
Biological Psychiatry
Critical Reviews in Neurobiology
Depression and Anxiety
Neuropsychopharmacology
Current Research Support:
NIAAA Merit Award R37 AA010201. CL Ehlers, PI: Risk Factors for Alcoholism in Native Americans. 
NIAAA Research Grant R56 AA023755. R. Moore PI, CL Ehlers Co-I Relative Impacts of Multi-level Underage Drinking Interventions among California Indians 
NIDA Research Grant R01 DA030976 KC Wilhelmsen PI, CL Ehlers, Co-I, Deep sequencing for cannabis and stimulant dependence (data only) 
NIAAA Research Center Grant AA006420 GF Koob PI, CL Ehlers, Co-PI, CL Ehlers component project, Risk and Protective Factors for alcoholism in Mexican Americans 
NIAAA Research Grant RO1 AA006059. CL Ehlers, PI: EEG and ERP Measures of Alcohol's Effects 
NIAAA Research Grant (NADIA) U01 AA019969 CL Ehlers, PI: 4/8 NADIA UO1 Effects of Adolescent Alcohol on Drinking, Sleep and Brain Connectivity: Focus on Hypocretin