mHealth Screening to Prevent Strokes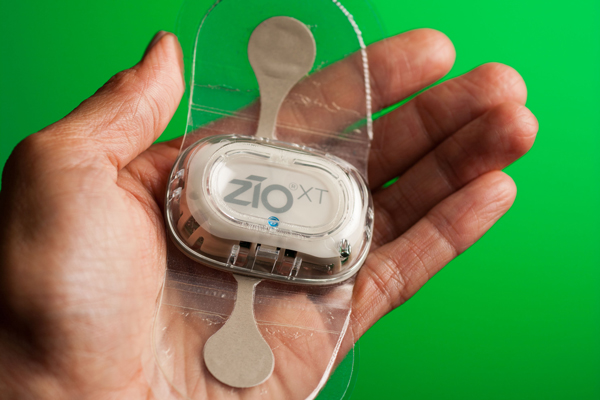 The mHealth Screening to Prevent Strokes (mSToPS) trial is a home-based clinical research study that uses wearable sensor technology to identify people with asymptomatic atrial fibrillation (AFib), an irregular heartbeat (arrhythmia) that can lead to blood clots, stroke and heart failure. The primary objective of the trial is to determine whether screening select individuals in their homes using wearable medical devices can identify people with asymptomatic AFib more efficiently than routine care.
The study, launched in November 2015, is a novel multisectoral collaboration between the Scripps Research Translational Institute, Aetna's Healthagen Outcomes unit, and Janssen Pharmaceuticals, Inc.
Study participants will undergo continuous single-lead electrocardiogram (ECG) monitoring using the ZIO® XT Patch wearable sensor, developed by iRhythm Technologies. Additionally, a subset of participants will be invited to participate in a substudy that monitors heart rate and rhythm characteristics through the Amiigo wristband monitor.
Effect of a Home-Based Wearable Continuous ECG Monitoring Patch on Detection of Undiagnosed Atrial Fibrillation, Journal of the American Medical Association, July 2018
Rationale and design of a home-based trial using wearable sensors to detect asymptomatic atrial fibrillation in a targeted population: The mHealth Screening To Prevent Strokes (mSToPS) trial, American Heart Journal, May 2016
Mobile health devices diagnose hidden heart condition in at-risk populations (Press release)
Wearable heart monitors reveal otherwise undetected atrial fibrillation, Modern Healthcare, July 2018
Wearable, At-Home Patch Could Spot A-Fib Early, WebMD, July 2018
Wearable ECG device increases AFib diagnoses, Cardiovascular Business, July 2018
Self-Applied ECG Patch Catches Atrial Fibrillation More Quickly than Usual Care, MD Magazine, March 2018
Study Launched by STSI Uses Wearable Sensors to Detect Atrial Fibrillation (Press release)
Contact