In Brief
Prospective Students Visit Campus
The Office of Graduate Studies hosted 130 prospective students of The Kellogg School of Science and Technology during the past three weeks. Marylyn Rinaldi, the graduate program's administrative director, thanked current graduate students for their role in making the prospective students feel welcome and for their suggestions on how to improve the visits. "At The Scripps Research Institute, we have a well-organized, cohesive group of students, faculty, and administrators who are devoted to the progress of science, and we think the students we interview see this quite clearly," she says. "We've already had some students accept our offer of a place in next year's class."

Nemazee to Speak in Faculty Lecture Series
Scripps Research Professor David Namazee will speak on "Immunological Tolerance in B Lymphocytes," on Wednesday, April 14, as part of the Faculty Lecture Series. The lecture will be held at 5 PM in the Valerie Timken Amphitheater, Scripps Clinic, 10666 North Torrey Pines Road. No reservations are necessary.

Lunch and Learn: "Welcome to California: Navigating the Roads and Your Vehicle"
David Skaien and Elaine Beno of the Auto Club of Southern California will give a workshop entitled "Welcome to California: Navigating the Roads and Your Vehicle" on Wednesday, March 24, from noon to 1 PM as part of the ongoing Lunch and Learn seminar series. Topics include vehicle registration, mandatory smog requirements, road conditions, tires, fuel conservation, and the "five vital fluids." The speakers will also address the questions of how to develop a maintenance strategy plan, detect breakdown symptoms, and locate a trustworthy mechanic. Participants are invited to stay for questions and an under-the-hood survey of a vehicle engine. The event will be held in the W.M. Keck Amphitheater, The Beckman Center for Chemical Sciences, and was arranged by Jan Hill of Counseling and Postdoctoral Services. No reservations are necessary.
Send comments to: mikaono[at]scripps.edu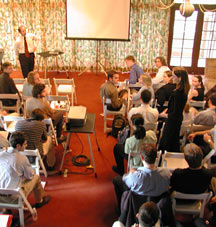 Prospective students of the Kellogg School of Science and Technology introduce themselves at the beginning of a three-day program in which they interviewed with Scripps Research faculty, met with current graduate students, and toured Scripps Research facilities. Photo by Kevin Fung.