Dreyfoos and Viterbi Join Board of Trustees
Alexander W. Dreyfoos, Jr., chairman and owner of The Dreyfoos Group in Palm Beach, Florida, and Andrew J. Viterbi, president of The Viterbi Group, LLC, of San Diego, California, are the institute's two newest trustees.
Scripps Research Breaks Ground in Florida
A groundbreaking ceremony for Scripps Florida temporary facilities was held Friday, February 27 on the Jupiter campus of Florida Atlantic University. Temporary facilities for the new campus are scheduled to open within a few months. Permanent facilities will be ready in 2006.
Scientists Discover Chemical that Turns Mouse Stem Cells into Heart Muscles
A group of researchers from Scripps Research and GNF has identified a small synthetic molecule, called cardiogenol C, that can control the fate of embryonic stem cells.
On Press: Antigen Synthesis—A Step Forward Towards an AIDS Vaccine
On Press: Structure Shows One Way Body Controls Gene Expression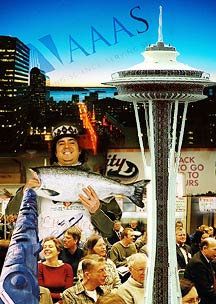 Good Morning, Seattle!
News&Views reporter Jason Bardi gives his account of a live broadcast of NPR's Talk of the Nation. That day, the show focused on oxygen and included the voice of Scripps Research investigator Paul Wentworth.