Dreyfoos and Viterbi Joins Board of Trustees
Alexander W. Dreyfoos, Jr., chairman and owner of The Dreyfoos Group in Palm Beach, Florida, and Andrew J. Viterbi, president of The Viterbi Group, LLC, of San Diego, California, have been elected to the Board of Trustees of The Scripps Research Institute.
Dreyfoos owns and directs The Dreyfoos Group, a private capital management firm that grew out of his previous ventures. These include the Photo Electronics Corporation, a company he formed in 1963 to manufacture electronic equipment for the photographic industry, and WPEC-TV-12, the CBS affiliate in West Palm Beach, in which he owned a controlling interest from 1973 to 1996.
Viterbi heads the Viterbi Group, LLC, a firm he co-founded with his daughter, Audrey Viterbi, in 2000 to advise and invest in startup companies, predominately in the wireless communications and network infrastructure fields. Viterbi is also known as co-founder of QUALCOMM Inc., a leading developer and manufacturer of mobile satellite communications and digital wireless telephony.
"The Scripps Research Institute is fortunate to have two such distinguished and experienced individuals on our Board of Trustees," said Scripps Research President Richard A. Lerner. "Both bring leadership skills and experience in business, technology development, public service, and philanthropy."
The 29-member board oversees the La Jolla-based Scripps Research Institute, one of the world's largest private, nonprofit biomedical research organizations, and its new division in Palm Beach County, Florida. Scripps Research is at the forefront of basic biomedical science that seeks to comprehend the most fundamental processes of life. It is internationally recognized for its research into immunology, molecular and cellular biology, chemistry, neurosciences, autoimmune diseases, cardiovascular diseases, and synthetic vaccine development.
Alexander W. Dreyfoos, Jr.
Dreyfoos holds a B.S. degree from the Massachusetts Institute of Technology (MIT) and an M.B.A. from Harvard Business School. He is an inventor, holding 10 U.S. and numerous foreign patents in the fields of electronics and photography.
His Photo Electronics Corporation designed and manufactured the digital image processing Professional Video Analyzing Computer used by color laboratories for making high quality photographs. The company also invented the LaserColor printer, which produced electronically generated color prints from color slides. In 1971, the company received an "Oscar" from the Academy of Motion Picture Arts and Sciences for its development of a motion picture video analyzer.
Dreyfoos was instrumental in forming and served as the first chairman of the Palm Beach County Council of the Arts. He spearheaded efforts to build a world-class performing arts center in Palm Beach County and continues to serve as chairman of $67 million Raymond F. Kravis Center for the Performing Arts, which opened in 1992.
He is a lifetime trustee of the MIT Corporation, serving on several of its visiting committees. The Dreyfoos Building at MIT, designed by Frank Gehry, is nearing completion.
In 1997, Dreyfoos made the largest private contribution to a public school in Florida when he pledged $1 million to support Palm Beach County's public arts magnet high school, subsequently named for him.
He serves on numbers public and nonprofit boards and has received numerous distinctions for community involvement.
Andrew J. Viterbi
Viterbi holds both B.S. and M.S. degrees from MIT and a Ph.D. from the University of Southern California. From 1957 to 1963, he was a member of the Communications Research Section of the California Institute of Technology Jet Propulsion Laboratory, where he was one of the first communications engineers to propose digital transmission techniques for space and satellite telecommunication systems.
From 1963 to 1973, he was an internationally recognized professor at the University of California, Los Angeles School of Engineering and Applied Science. He is currently Professor Emeritus at UC San Diego.
Prior to co-founding QUALCOMM in 1985, Viterbi co-founded LINKABIT Corporation, a digital communications company where he served as executive vice president, then president.
The author of numerous research papers and three books, Viterbi has been recognized for his leadership and substantial contributions to communications theory and its industrial applications. All four international standards for digital cellular telephony and most digital satellite communications systems use the algorithm he developed—the Viterbi algorithm—for interference suppression.
Viterbi's many awards include honorary doctorates from universities in this country, Canada, Italy, and Israel. He is a member of the U.S. National Academy of Engineering, the National Academy of Sciences, and the National Academy of Arts and Sciences. He is a trustee of the University of Southern California and the Mathematical Sciences Research Institute in Berkeley, and a board member of the Burnham Institute and the Scripps Cancer Center. From 1997 to 2001, he was a member of the President's Information Technology Advisory Committee.


Alexander W. Dreyfoos, Jr., who owns and directs The Dreyfoos Group, holds 10 U.S. and numerous foreign patents in the fields of electronics and photography.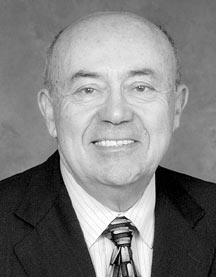 Andrew J. Viterbi, who heads the Viterbi Group, LLC, has authored numerous research papers and three books making substantial contributions to communications theory and its industrial applications.