In Brief
Abagyan Honored by Victor Chang Cardiac Research Institute
Most people who go to Australia in the winter go for the cool waves, hot breezes, and aromatic barbecues that greet southern hemisphere summers. But Molecular Biology Professor Ruben Abagyan of The Scripps Research Institute went to deliver an annual award lecture, the Princess' Lecture, for the Victor Chang Cardiac Research Institute, a basic cardiovascular biology research institute in Sydney, Australia. The lecture is given by one scientist each year in memory of Diana, Princess of Wales, who visited the Australian institute several years ago.
Abagyan's lecture focused on new applications of his computational technologies. Abagyan has been working on problems of flexible docking and virtual ligand screening to pick out potential therapeutic compounds from among hundreds of thousands of possible candidates, and recently he has been applying the methodologies he has developed to the "deorphanization" of G-protein coupled receptors (GPCRs). Abagyan has shown that he can computationally dock natural substrates to GPCRs based on the few known GPC structures that are in the literature. This can be used to identify natural ligands of orphan GPCRs and potentially to discover new therapeutic molecules that bind to these receptors.

Boger to Speak as Part of Faculty Lecture Series
Professor Dale Boger of Scripps Research will speak on "Chemistry at the Chemistry-Biology Interface," on Wednesday, March 10, as part of the Faculty Lecture Series. The lecture will be held at 5 PM in the Timken Amphitheater, Scripps Clinic, 10666 North Torrey Pines Road.

English-as-a-Second-Language Classes Begin
A new English-as-a-second-language class will begin Tuesday, February 24. The class meets from 6:30 to 8:30 PM on Tuesday evenings in the west conference room of the Immunology building. The price for three months (12 classes) is $60.
Each intermediate-level English class is divided into speaking and listening; idioms and vocabulary; and reading and writing. The instructor, Cassandra Wadkins, uses movies, games, television shows, grammar books, songs, drawings, and novels to teach standard American English. Have fun and learn English at the same time! For more information, leave a message at x4-2176.

Team Scripps Research/ScrippsAssists to Walk Against MS
Members of Scripps Research and ScrippsAssists have formed a team to participate in the Fifteenth Annual Multiple Sclerosis Walk, on Sunday March 14. The MS walk is a fun, non-competitive walk following a 5- or 10-kilometer route beginning and ending at the Embarcadero Marina Park North. Team Scripps Research/ScrippsAssists will not only raise funds for MS research and programs, but also will foster involvement in the Scripps Research and local communities.
Contact Crystal Anglen, at crystala@scripps.edu or x4-9974, to walk as a member of Team Scripps Research/ScrippsAssists. Registration and opening ceremonies begin at 7:30 AM. The walk begins at 8 AM. To make a donation, see any team member or go to www.mswalk.com. More information about the event is also available at this site.

Reminder: Keep Contact Information Current
Benefits Administration would like to remind Scripps Research employees that current contact information (address and phone number) must be on file with Human Resources. Outdated information can cause employees to miss important mailings on benefits and other topics. A recent paycheck will show the address Human Resources has on file. To update contact information, go to www.scripps.edu/hr/forms/address.pdf for a change-of-address form and mail it to Human Resources at TPC-11. For further information, contact Benefits at x4-8487 or benefits@scripps.edu.


Helen Sterling Retires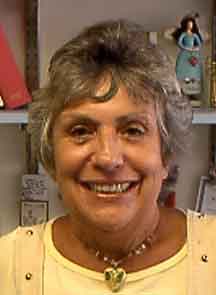 Senior Administrative Assistant Helen Sterling will retire February 27 after almost 15 years at the institute. "I have enjoyed working for Dr. Steven Reed at Scripps and will miss the people here," she says. But she has no shortage of plans for retirement. In addition to traveling, exploring, and quilting, Sterling will volunteer to visit the elderly and convalescent, feed the homeless Sunday evenings at her church, and help out at her grandchildren's schools. "I want to make a difference," she says.