Scripps Research Scientific Board Meets in Florida
The Board of Scientific Governors, which includes 11 Nobel laureates, convened last week in Palm Beach.
Snapshot: Kim Jackson
Meet Kim Jackson, who recently joined the Scripps Research International Office as senior immigration advisor.
"Second Cup of Coffee"
Scripps Research is offering "Second Cup of Coffee," a public science education series for women who are lifelong learners interested in exploring the scientific process, building vocabulary, and gaining the skills to better comprehend and analyze contemporary science/health-related issues and news.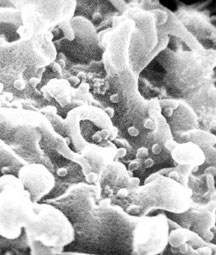 The Resistance: Fighting HIV Resistance at Home and in the Laboratory
"Nobody knows how to do everything, so you really need these kinds of collaborations," says Professor Arthur Olson. Part two of a three-part series on targeting HIV protease drug resistance.