In Brief
Traffic Update
Construction for the city's sewer project will continue on Salk Institute Road and La Jolla Village Drive from La Jolla Scenic Drive to Expedition Way through Friday, December 19. During this time, there will be one lane of traffic in each direction in both of these areas. Construction work will be suspended from Wednesday, December 24 to Thursday, January 1.

Enroll for Transit Benefit
Benefits Administration would like to remind employees of The Scripps Research Insitute about the Transit Benefit Account, which allows you to reduce your taxable income by purchasing eligible transportation fares through a pre-tax payroll deduction of up to $100 per month. Eligible expenses include bus fares, commuter van fares, and commuter railroad fairs (Coaster). To participate, you must receive a taxable paycheck from Scripps Research and be a benefit-eligible member of the scientific and support staff or a research associate working at least 20 hours per week. For more information, see the Transit Information Sheet and the Enrollment Form. Those with questions should contact Benefits, x49212 or benefits@scripps.edu.

Tuition Reimbursement Deadline Is January 31
Tuition reimbursement requests for courses completed during the 2003 calendar year must be received in Human Resources by January 31, 2004 at 5 PM. No requests will be accepted after this date. Scripps Research will reimburse eligible employees up to $2,500 for courses completed in 2003 that have met all of the requirements for this benefit. The tuition reimbursement form, which lists all of the information required, is available on the Scripps Research website at http://www.scripps.edu/hr/benefits/forms/tuition.pdf. Contact Lisa Barker, x4-9212, with questions.

Institutional Biosafety Committee Meeting Scheduled
The next meeting of the Institutional Biosafety Committee will be held on Wednesday, January 14, 2003 in the Tennis Court Room of the Faculty Club, Building 3300 at 2:30 P.M. To receive IBC consideration at the next meeting, please submit your completed registration documents to EH&S at rachellv@scripps.edu, by December 19, 2003.

Winter Break for News&Views
News&Views will not be published on December 29 and January 5 due to the winter holidays. The next issue will be published by Monday, January 12.

ScrippsAssists Helps Seniors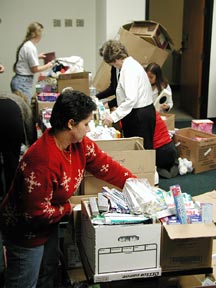 This week ScrippsAssists, the volunteer club for Scripps employees, finished its drive to prepare holiday baskets to be distributed to senior citizens in the mid-city area. More than 20 volunteers helped assemble the baskets, which included handmade cards prepared by children from the Gluck Child Care Center. This year, more than $2,000 was collected in donations for the project. Photo by Jason S. Bardi.
Fall Craft Fair Draws Crowd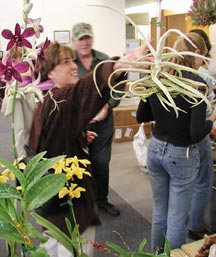 The fall craft fair, which featured hand-crafted items by Scripps Research employees, was one of the largest ever. Photo by Jason S. Bardi.