In Brief
Zhang Honored by Leukemia & Lymphoma Society
Associate Professor Dong-Er Zhang was recently honored by The Leukemia & Lymphoma Society as one of five Stohlman Scholars, selected on the basis of their ability to conduct original research on leukemia, lymphoma, or myeloma.
"Dr. Zhang's studies represent leading-edge research. The Society is pleased to recognize her accomplishments in advancing blood cancer research with a Stohlman award," said Marshall Lichtman, executive vice president of research and medical programs of The Leukemia & Lymphoma Society.
The Stohlman Scholar award is given in memory of Dr. Frederick Stohlman, Jr., who was a major figure in research of stem cell physiology and widely regarded as a mentor to the many scientists who are in the forefront of blood cancer research and treatment today.

Can You Help with Holiday Baskets for Seniors?
ScrippsAssists will once again prepare holiday baskets for homebound seniors.
You can help by:
1) Collecting items. If you are willing to collect items in your area, monitor the collection box, and arrange for help with delivery to the collection room, please contact Helen Plutner, x4-8257.
2) Donating items to fill the baskets. Baskets and many toiletry items (soap, shampoo, toothbrushes /paste, deodorant, shaving cream/razors) have already been purchased. Instead, ScrippsAssists is asking for holiday items, stationery, magnifying glasses, hats, gloves, scarves, calendars, flashlights, small denomination food gift certificates, socks, slippers, etc.
3) Making a cash donation to cover the cost of the baskets, cellophane wrapping, and toiletries. Monetary donations should be sent to Helen Plutner, MB6. Checks should be made out to "ScrippsAssists."
4) Helping to prepare the baskets. ScrippsAssists will meet on Tuesday, December 9 and Thursday, December 11 from 5 to 7 PM to prepare the baskets (food will be provided for volunteers). Help is also needed loading the van on Friday, December 12 around lunchtime.
5) Buying raffle tickets at the Fall Craft Fair on Tuesday, December 9. All proceeds go to this project, thanks to Bonnie Towle.

Lunch & Learn: "Stress!"
Clinical psychologist Marty Cary will speak on "Stress!: Everybody Talks About It, But What Is It?" on Monday, December 8, from noon to 1 PM, as part of the ongoing Lunch & Learn seminar series. The workshop, which will be held in the W.M. Keck Amphitheater of the Beckman Center for Chemical Sciences, will address topics such as understanding stress, techniques for relaxation, and how to de-stress during the holidays. For more information, contact Jan Hill, x4-2950.

Pie Sale Raises Money for Children's Room
The Gluck Child Care Center is having a pie sale fundraiser for the Thanksgiving holiday to raise money for a new multipurpose room. The 9-inch deep dish pies for sale from the Chantilly Bakery include: apple, dutch apple, cherry, blueberry, peach, pumpkin, and pecan. They are $10 each with the exception of the pecan pie, which is $12. If you would like to place an order for one or more pies, please call the Gluck Child Care Center at 455-5220 or e-mail your order to gluckchildcare@znet.com. The deadline is Friday, November 21. The pies will be ready for pick up on Tuesday, November 25 at the center, which is located at 10660 John Jay Hopkins Drive, just across N. Torrey Pines Road from the Beckman building.

How Will You Pay for College?
Everyone wants to begin saving early for a child's higher education – but few have a plan. Now there is an easy and convenient way for people of all income levels to save and invest for college. It's called The Golden State Scholar Share College Savings Trust, a 529 Plan sponsored by the State of California administered through TIAA-CREF. Families can save and invest for higher education with federal and California income tax-free benefits. To learn more about this program, attend an information session with a TIAA-CREF representative on Thursday, December 4 from noon to 1 PM in the Keck Amphitheater, Beckman Center. For more information, contact Benefits at x-4-8487.

Discount Movie Tickets
Just in time for the holidays, Human Resources will begin selling discount movie tickets beginning on Monday, December 1 for the following theaters: Pacific ($5.25), Regal, Edwards, and United Artists ($5.75), and Ultra-Star ($4.25). Tickets may be purchased at the Human Resources Department, 3377 N. Torrey Pines Court, second floor. Please make checks payable to "TSRI." Sorry, no cash.

TB Screenings, Hepatitis B Immunizations, Serum Draws, and Tetanus Immunizations
On Monday, December 1, Wednesday, December 3, and Friday, December 5, personnel from Sharp Rees-Stealy Medical Group will be on-site to conduct TB screenings, Hepatitis B immunizations, serum draws, and tetanus immunizations. The clinics will be conducted at the Administrative Offices (3301 North Torrey Pines Court) on the P1 level from 11 AM to 2 PM. No appointments are necessary. TB screening requires a 48 to 72 hour follow-up. Individuals receiving the TB screen on Monday will need to return on Wednesday, and individuals screened on Wednesday, will need to return on Friday. Initiation of the TB screening process will not be available on Friday, but Hepatitis B immunization, serum draws, and Tetanus immunizations will be. To learn more about these programs, see the Environmental Health & Safety Occupational Medicine web page, which includes a map and patient information sheets.

News&Views Stays Home for Thanksgiving
News&Views will not be published next week due to the Thanksgiving holiday. The next issue will be posted by Monday, December 8.


Café Serves Fresh Art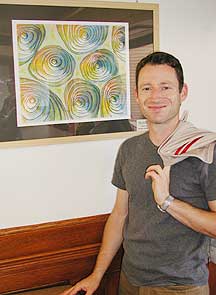 Research Associate "Sascha" Nussbaum's acrylic painting is among the art now on display in the cafeteria. Photo by Kevin Fung.