TSRI Plans to Open Major Science Center in Palm Beach County, Florida
TSRI has announced plans to establish a major science center in Palm Beach County, Florida, focusing on biomedical research, technology development, and drug design.
Slide Show: In Celebration of Long-Term Employees
An event at the Birch Aquarium honored those celebrating 5, 10, 15, 20, 25, 30, and 35 years with the institute.
Siuzdak Publishes New Mass Spec Book
Gary Siuzdak of the Department of Molecular Biology and the Center for Mass Spectrometry has published a new book, "The Expanding Role of Mass Spectrometry in Biotechnology" (MCC Press, 2003).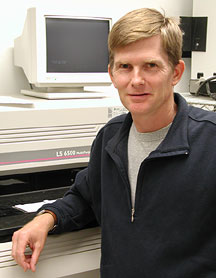 Tissue Factor in Coagulation and Inflammation
"We would like to think that understanding these processes would be beneficial to the treatment of human diseases—particularly hemostatic diseases, like hemophilia, and inflammatory diseases, like sepsis," says TSRI Associate Professor Nigel Mackman.