Young TSRI Scientists Receive Grants for Clinical Projects
By Mika Ono
One of the hardest things about starting out as a scientist is finding money to fund those first few critical projects.
This week, three young investigators at The Scripps Research Institute (TSRI) got some help from a new source, the Clinical Research Feasibility Funds (CReFF), part of a grant from the National Institutes of Health to TSRI's General Clinical Research Center (GCRC). The CreFF program is intended to encourage young investigators to become engaged in clinically oriented research. Matching grants from the Skaggs Foundation and TSRI also made the awards possible.
The three TSRI researchers, each winning $20,000 of support for pilot projects at TSRI's General Clinical Research Center (GCRC), are:
Marc Arnush, a postdoctoral fellow working with Associate Professor K. Michael Pollard. He will conduct a project comparing Daf gene structure and expression of patients with and without a history of the lupus-related kidney disease glomerulonephritis, one of the most significant health problems associated with lupus.


Emily Chen, a postdoctoral fellow working with Associate Professor Brunhilde Felding-Habermann. She will conduct a project to identify cell surface proteins that contribute to the propensity of metastatic breast cancer cells to colonize skeletal bone as a target organ.


Alexander R. Shikhman, assistant professor. He will conduct a study analyzing the safety and efficacy of a potential therapy for osteoarthritis, N-acetylglucosamine, in patients with osteoarthritis of the knee.
"Congratulations to the award winners," says TSRI Professor Dr. Frank Chisari, program director of the GCRC. "I'm delighted to see young investigators inspired to research such relevant clinical problems using the excellent resources available at TSRI's GCRC."
The winning projects were selected on the basis of scientific merit, clinical relevance of the project and/or need for the GCRC, and qualifications of the candidates. The GCRC Scientific Advisory Committee, which is comprised of over a dozen members representing four TSRI departments and three clinical divisions of Scripps Clinic, acted as the selection committee for the awards.
Arnush, Chen, and Shikhman will use the CReFF funds for such diverse items as lab supplies, lab procedures, payments to patients, rental of small equipment, experimental drug preparation, and partial salary support.
The GCRC, which has over 100 approved clinical protocols, provides investigators at TSRI and The Scripps Clinic Medical Group with the facilities to conduct clinical research, including:
a seven bed inpatient unit, including a sleep lab;


an adjacent outpatient suite;


nursing staff specially trained to provide both excellent patient care and rigorous research data collection;


a core laboratory staffed and equipped to perform specialized research assays and provide specimen preparation and storage; and


a computer center, staffed with a biostatistician and a systems manager, to help investigators design studies and perform sophisticated genetic and clinical data management and analysis.
In addition, the GCRC runs a blood donor program, which ensures that the blood used in laboratory experiments is properly drawn, screened, and categorized.
For more information about the GCRC, contact Beth Bieger, administrative manager, at tie line 554-2281 or bieger@scripps.edu. More information is also available at the GCRC web site.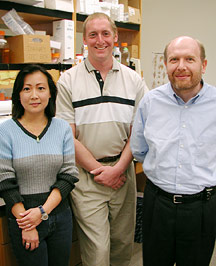 Investigators Emily Chen, Marc Arnush, and Alexander R. Shikhman (left to right) will conduct research in TSRI's General Clinical Research Center. Photo by Kevin Fung.