In Brief
Cravatt Wins ACS Eli Lilly Award
Associate Professor Benjamin Cravatt will receive the 2004 Eli Lilly Award in Biological Chemistry from the American Chemistry Society. This award recognizes outstanding research in biological chemistry of unusual merit, independence of thought, and originality by a young scientist who is under the age of 38.
The Cravatt lab studies the action and regulation of chemical messengers, particularly the fatty acid amides, which mediate physiological phenomena like pain sensation, sleep, and thermoregulation. It designs and uses chemical probes for "active site proteomics," the global analysis of protein function.

Barton to Speak on "DNA Charge Transport Chemistry and Biology"
Jacqueline K. Barton, Arthur and Marian Hanisch Memorial Professor of Chemistry at The California Institute of Technology, will speak on "DNA Charge Transport Chemistry and Biology" on Friday, September 19, at 11:00 AM. The event will take place at the Valerie Timken Amphitheater, Scripps Green Hospital. Barton was invited by TSRI Professor Jamie Williamson of the Department of Chemistry Lecture Series and the Network for Women in Science at TSRI. In addition to lecturing, she will meet with faculty and have lunch with NWiS members.

Seminar: "Visa Stamp Renewal and Travel Issues, 2003 Update"
Immigration attorneys Grace Zimmerman and Fausta Albi from Larrabee & Zimmerman will speak on "Visa Stamp Renewal and Travel Issues, 2003 Update" on Tuesday, September 16 from 3:30 to 5 PM in the Valerie Timken Amphitheater. They will address recent changes to the visa renewal process. For example, U.S. consulates worldwide now require face-to-face interviews for almost all visas and visa renewals. Also, the U.S. Consulate in Tijuana may no longer be a viable option for visa renewal. Principal investigators, lab representatives, administrative assistants to principal investigators, and foreign nationals are encouraged to attend. RSVP (recommended, not required) to tsriglobal@scripps.edu.

Ethics in Science Course Coming Up
TSRI's annual Ethics in Science course will be presented by Thomas Northrup, of TSRI's Office of Patent Counsel, on Tuesday, September 16, and again on Tuesday, September 23, from 9 AM to noon. Both classes will be held in the Scripps Green Hospital's Valerie Timken Amphitheater. Registration forms and information have been mailed to all new research associates. All research associates/postdoctoral fellows who have not previously attended the course at TSRI are required to register for one of these classes. For information, contact Ruth Stewart, x4-9390, in the TSRI Office of Technology Development.

Benefits Administration Knocks on Your Door
Do you have questions about your medical and/or dental insurance? Are you saving for retirement? If not, do you want to know how? Benefits Administration is now traveling to each building once a month to answer questions and inform employees of current events and information.
Upcoming presentations include:
Friday, September 19, CVN, East conference center;
Thursday, October 16, CARR B, large conference center,
Wednesday, November 5, IMM, Immunology Galleria (Benefits Fair),
Monday, December 11, ICND, Auditorium
For more information, contact Benefits Administration, x4-8487 or benefits@scripps.edu.

TB Screenings, Hepatitis B Immunizations, Serum Draws, and Tetanus Vaccinations
On Monday, September 15, Wednesday, September 17, and Friday, September 19, personnel from Sharp Rees-Stealy Medical Group will be on-site to conduct TB screenings, Hepatitis B immunizations, serum draws, and tetanus immunizations. The clinics will be conducted at the Administrative Offices (3301 North Torrey Pines Court) on the P1 level from 11 AM to 2 PM. No appointments are necessary. TB screening requires a 48 to 72 hour follow-up. Individuals receiving the TB screen on Monday will need to return on Wednesday, and individuals screened on Wednesday, will need to return on Friday. Initiation of the TB screening process will not be available on Friday, but Hepatitis B immunization, serum draws, and tetanus immunizations will be. To learn more about these programs, see the Environmental Health & Safety Occupational Medicine web page which includes a map and patient information sheets.

Everything You Always Wanted to Know About Computer Viruses...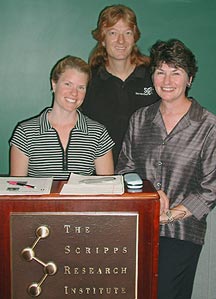 In the wake of the recent spate of computer viruses, Research Computing hosted a lunch-time discussion and demonstration on viruses and what you can do about them. "Keep your operating system and anti-virus software up-to-date," recommends Systems Administrator Beth Peterka (left, shown here with fellow workshop leaders Christoph Weber and Nancy Curry). More information from the presentation is available at: http://www.scripps.edu/rc/virus/seminar/index.html/.