In Brief
Traffic Alert, Part Two
In addition to the previously announced construction project between La Jolla and TSRI (see News&Views June 30, 2003), traffic around TSRI will be affected by the replacement of the 71-year-old bridge on North Torrey Pines Road over Los Peñasquitos Creek. Two lanes should remain open at all times during construction, which will begin this fall and is scheduled to last about 18 months. The new 340-foot-long bridge will include bicycle lanes, a pedestrian walkway on one side, bus turnouts, and access ramps leading from the beach to the bridge. The bridge will be wide enough for three lanes of traffic but will be limited to two under California Coastal Commission restrictions.

New English-as-a-Second-Language Class to Begin
A new English-as-a-second-language class will begin Tuesday, August 12. This class, taught by instructor Cassandra Wadkins, will meet from 6:30 to 8:30 PM every Tuesday in the Immunology Building West Conference Room. The price for three months (12 classes) is $60. Each intermediate-level English class is divided into speaking and listening, idioms and vocabulary, and reading and writing. If you would like to improve your English communication skills and your understanding of friends and colleagues, movies, television shows, and the news, this class is for you. The instructor uses movies, games, television shows, grammar books, songs, drawing, and novels to teach standard American English. Have fun and learn English at the same time! For more information, leave a message at x4-2176.

Carpool to Work
A carpool sponsored by TSRI's Parking Services is now available to employees. To register go to: http://www.scripps.edu/services/parking/carpool.htm.

Dental Plan Reminder
Benefits Administration would like to remind all participants in the TSRI Dental Plan that they will receive the maximum level of coverage when visiting a DeltaPreferred Dentist. With a DeltaPreferred Dentist, routine exams and cleanings are covered at 100% with no deductible. It is important to verify that your dentist is still part of the DeltaPreferred network before each visit as dentists can move in and out of the network. If you visit a dentist who is contracted with Delta but is not in the DeltaPreferred network, you will receive 80% coverage after a $50 deductible for routine exams and cleanings. Coverage is also available through non-Delta dentists although you may be responsible for more out-of-pocket expenses when using this option. To find a DeltaPreferred Dentist, visit www.deltadentalca.org or contact Benefits Administration for a provider booklet. If you have any questions about your dental coverage, you may contact the Benefits group at x48487 or benefits@scripps.edu.


TB Screenings, Hepatitis B Immunizations, Serum Draws, and Tetanus Vaccinations
On Monday, August 11, Wednesday, August 13, and Friday, August 15, personnel from Sharp Rees-Stealy Medical Group will be onsite to conduct TB screenings, Hepatitis B immunizations, serum draws, and tetanus vaccinations. The clinics will be conducted at the Administrative Offices (3301 North Torrey Pines Court) on the P1 level from 11 AM to 2 PM. No appointments are necessary. TB screening requires a 48 to 72 hour follow-up. Individuals receiving the TB screen on Monday will need to return on Wednesday, and individuals screened on Wednesday, will need to return on Friday. Initiation of the TB screening process will not be available on Friday, but hepatitis B immunization, serum draws, and tetanus immunizations will be. To learn more about these programs, see the Environmental Health & Safety Occupational Medicine web page, which includes a map and patient information sheets.

Look for Next News&Views August 25
The next issue of News&Views, which is published every other week throughout the summer, will be posted by Monday, August 25. The deadline for announcement and calendar submissions is Wednesday at noon for the following Monday's publication.

Picnic Teams Ride on the Cutting Edge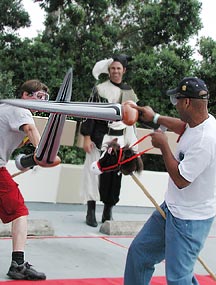 This year's picnic team competitions included "sword fights" on "horseback," true to the event's Renaissance theme. In first-place was a team called The Chastity Belters, captained by Frank von Delft; in second place was Team Blackadder, captained by Gavin Jenkins; and in third place was The Gladiators, captained by Adriane Mosley. Photo by Kevin Fung.
Betty Chastain Retires After 26 Years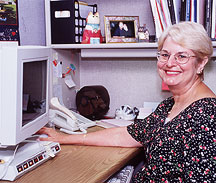 Administrative Assistant Elizabeth "Betty" Chastain (a.k.a. "Goddard") retired last month after 26 years of service. "Working with Richard Ulevitch and his staff for the last 19 years was the highlight of my career and a very enriching growth period," she says. "Richard's support and encouragement to be independent will serve me very well as I move forward into my new career." Now a resident of Colorado Springs, Colorado, Chastain notes, "I miss Scripps dearly. [But] Colorado Springs is absolutely beautiful and a great place to be. I've already found a quilt shop!" Photo by BioMedical Graphics.