In Brief

Waterman-Storer Named Keith Porter Fellow
Associate Professor Clare Waterman-Storer of the Department of Cell Biology has been appointed a Keith Porter Fellow by the Porter Endowment for Cell Biology, an organization that advances the profession of cell biology. Keith Porter Fellows are chosen on the basis of their early to mid-career scientific contributions as well as their entrepreneurial talents for promoting the profession of cell biology. Each class of two fellows serves a term of three years during which they present seminars at small colleges and also organize conferences on specific topics, funded by the endowment. In her laboratory, Waterman-Storer uses state-of-the-art light microscopy of living cells to elucidate how microtubule/f-actin interactions contribute to the orchestration of complex changes in cellular morphology that drive directed cell motility during metastasis and wound healing.
Huang Wins Prostate Cancer Research Award
Assistant Professor Shuang Huang of the Department of Immunology has received an Idea Development Award from The Department of Defense Prostate Cancer Research Program, of the U.S. Army Medical Research and Materiel Command. This program focuses on innovative research concepts to prevent, detect, and treat prostate cancer. Huang's proposal is titled, "Identifying Early Diagnosis Markers of Prostate Cancer."

Barglow Awarded Howard Hughes Predoctoral Fellowship
Catherine Tamina Barglow, a first-year graduate student in TSRI's Kellogg School of Science and Technology, has been awarded a predoctoral fellowship by the Howard Hughes Medical Institute. The fellowship promotes excellence in biomedical research by helping prospective researchers with exceptional promise obtain high-quality graduate education. Only about one in 20 applicants are selected for this honor. Barglow is currently working in the laboratory of Associate Professor Benjamin Cravatt.

Learn the Basics of Excel
Excel is a powerful spreadsheet program that can be used for a number of functions. The Excel Basics class on Tuesday, June 3, from 8:30 to 11 AM, provides instructions and exercises on how to:
Maintain data lists such as for name and address information,
Replicate paper forms with the calculations built into the document,
Create a simple "checkbook" style spreadsheet,
Import Excel data into Word to eliminate re-keying.
To sign-up for the Excel Basics class, go to http://www.scripps.edu/rc/training/dapps.html.

TB Screenings, Hepatitis B Immunizations, Serum Draws, and Tetanus Shots
On Monday, June 2, Wednesday, June 4, and Friday, June 6, personnel from Sharp Rees-Stealy Medical Group will be on-site to conduct TB screenings, Hepatitis B immunizations, serum draws, and tetanus immunizations. The clinics will be conducted at the Administrative Offices (3301 North Torrey Pines Court) on the P1 level from 11 AM to 2 PM. No appointments are necessary. TB screening requires a 48 to 72 hour follow-up. Individuals receiving the TB screen on Monday will need to return on Wednesday, and individuals screened on Wednesday will need to return on Friday. Initiation of the TB screening process will not be available on Friday, but Hepatitis B immunization, serum draws, and Tetanus immunizations will be. To learn more about these programs, see the Environmental Health & Safety Occupational Medicine web page, which includes a map and patient information sheets.

Look for Next News&Views June 16
The next issue of News&Views, which is published every other week throughout the summer, will be posted by Monday, June 16. The deadline for announcement and calendar submissions is Wednesday at noon for the following Monday's publication.




TSRI Web Seminar Reaches Out to Science Teachers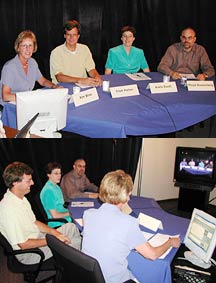 Top: TSRI Investigators (right to left) Floyd Romesberg, Karla Ewalt, and Clint Potter participated in TSRI's first "Contemporary Issues in Bioscience" web seminar for high school science teachers. The online event, taped live on Thursday, May 22nd, is available on demand here.
Bottom: Moderator Kim Bess, science director for San Diego City Schools, reads incoming questions as participants see themselves reflected in the live feed.