In Brief
San Diego City Schools Honors TSRI
TSRI was awarded a 10-year certificate at the 21st Annual Partnerships in Education End-of-Year Celebration. The event, hosted by San Diego City Schools and held at Sea World Pavilion on May 5, honored businesses and academic institutions that partner with local schools by offering educational opportunities and resources. Communications Specialist Jennifer O'Sullivan, who coordinates TSRI's educational outreach programs, accepted the award recognizing TSRI's partnership with Lincoln High School, and was greeted by Board of Education members Ron Ottinger, John de Beck, Frances O'Neill Zimmerman, and Katherine Nakamura.

Keck Wins Breast Cancer Research Fellowship
Graduate Student Jamie Keck has won a fellowship from the Department of Defense Breast Cancer Research Program (BCRP) of the U.S. Army Medical Research and Material Command's Office of the Congressionally Directed Medical Research Programs. Keck's proposal, "The Effects of Deregulated Cyclin E Expression in Mitosis: A Role in Breast Tumorigenesis," was selected from a pool of highly competitive submissions. According to the program administrators, the proposal demonstrated "high scientific merit," "relevance to the programmatic goals of the BCRP," and promise to "add significantly to the understanding of breast cancer."

Balch to Speak in Faculty Lecture Series
The Scripps Research Institute (TSRI) Professor William Balch will speak on "Ras Superfamily GTPases at the Crossroads of Cell Proliferation and Differentiation," as part of the Faculty Lecture Series on Wednesday, May 14. The lecture will be held at 5 PM in the Timken Amphitheater, Scripps Clinic, 10666 North Torrey Pines Road.

TSRI to Host Educational Web Seminar
In conjunction with San Diego City Schools, TSRI is hosting a web seminar, "Contemporary Issues in Bioscience." The seminar was created in response to middle and high school science teachers' interest in providing innovative, hands-on science activities in the classroom.
The web seminar will be presented in the following format:
MAY 1 - MAY 22: Three approximately 40-minute lectures given by TSRI scientists are available by video-on-demand to registered participants throughout California. The site, featuring synchronized PowerPoint presentations, "Ask a Question" window, and numerous links to related web sites, journal articles and news releases, is designed to assist teachers in creating fresh and comprehensive classroom activities.
MAY 22, 3 - 4 PM: Participants who have viewed "Contemporary Issues in Bioscience" will be able to participate in a live, online Q & A session with investigators Clint Potter, Karla Ewalt, and Floyd Romesberg.
TSRI employees are welcome to participate. For more information and to register online, visit the Contemporary Issues in Bioscience web page.
The webcast is best viewed using these standard settings:
Windows 98/ME/OO/XP,
Minimum screen size of 1024x768,
Internet Explorer 5.0 or greater,
Java enabled browser,

Bike to Work Day
2003 The 12th annual Bike to Work Day will be held on Friday, May 16. Bike to Work Day is a great opportunity to get out of your car, get some exercise, and help promote biking as a healthy, non-polluting transportation alternative. The event is organized by SANDAG (San Diego Regional Planning Agency) and presented by the San Diego County Credit Union. All registrants will receive a coupon for a free bagel provided by Bruegger's Bagels and will be eligible to win prizes such as Haro Mountain bikes, San Diego Padres game tickets, and San Diego Zoo passes. There also will be over 25 pit stops throughout the San Diego with free goodies from Henry's Marketplace, AllGoode, and Souplantation. Registration is free.
For more information call 1-800-COMMUTE (choose option 3) or visit www.keepsandiegomoving.com to register online.



Advice on How to Set Up a Lab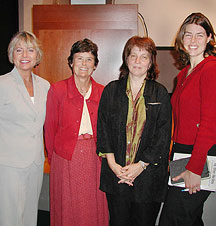 Author and scientist Kathy Barker (second right) spoke at TSRI last week on "Lessons From P.I.s: Setting Up Your Lab So It Will Work For You," based on her recent book, At the Helm: A Laboratory Navigator. She is pictured here with (left to right) Judith Muñoz of Human Resources, Jan Hill of the Employee and Graduate Student Counseling Department, and Erica Ollmann Saphire of the Network for Women in Science. Photo by Kevin Fung.