In Brief
Five TSRI Chemists Among Top 100 Most-Cited
In a list from ISI Essential Science Indicators, five investigators at The Scripps Research Institute (TSRI) were ranked among the top 100 most-cited researchers in the field of chemistry for the period from January 1992 to June 30, 2002. The researchers were: K.C. Nicolaou (fifth, 8,568 citations), Chi-Huey Wong (23rd, 6,117 citations), K. Barry Sharpless (84th, 4,270 citations), Dale Boger (92nd, 4,105 citations), and Julius Rebek, Jr. (97th, 3,988 citations).

TSRI Named "Heavyweight" in Molecular Biology/Genetics
Also from the ISI Essential Science Indicators database, TSRI was 12th on a list of the top-15 institutions ranked by percentage of highly cited molecular biology and genetics papers from 1992 to 2002. The list, published in the January/February 2003 issue of "Science Watch: Tracking Trends and Performance in Basic Research," included "heavyweight" institutions "that saw the largest percentages of their molecular biology and genetics papers reach the top-one percent rung in citations."

Reed to Speak in Faculty Lecture Series
Professor Steven Reed will speak on "Cell Cycle Control: Mechanisms and Pathologies," as part of the Faculty Lecture Series on Wednesday, February 12. The lecture will be held at 5 PM in the Timken Amphitheater, Scripps Clinic, 10666 North Torrey Pines Road.

Symposium to Explore Frontiers in Chemistry
The TSRI Department of Chemistry presents the 14th annual Frontiers in Chemistry Symposium on Friday, February 14. Talks will include:
TSRI Professor and Chair K.C. Nicolaou, introduction and welcome, 9 AM;
Professor W.A. Herrman of Technical University of Munich, the Merck lecturer, will speak on "N-Heterocyclic Carbenes and a New Generation of Organometallic Catalysts," from 9:10 to 10 AM;
Professor Roger Kornberg of Stanford University, the Pfizer lecturer, will speak on "Eukaryotic Gene Transcription," from 10 to 10:50 AM;
Professor Herbert Waldmann of the Max-Planck Institute of Molecular Physiology, the Amgen lecturer, will speak on "From Protein Domains to Drug Candidates: Natural Product Guided Combinatorial Chemistry," from 11:30 AM to 12:20 PM;
Professor Satoshi Omura of The Kitasato Institute, the Array lecturer, will speak on "Discovery of Natural Products with Specific Biological Targets," from 12:20 to 1:10 PM.
Lectures are open to all and will be held in the Neurosciences Institute Auditorium, 10640 John Jay Hopkins Drive. A lunch reception will be held in the Beckman Atrium after the talks.

Medical Plan Reminder: New Claims Administrator
Benefits Administration would like to remind employees that The Principal is the new medical plan claims administrator as of January 1, 2003. TSRI will continue to offer Community Care Network (CCN) as the medical provider network. Claims for services prior to January 1, 2003 should be submitted to the previous claims administrator, CoreSource.
New benefits cards list the new medical plan group number, claims submission address, and pre-authorization phone number for The Principal. Unfortunately, the policy number was initially printed incorrectly on the front of the new cards. Replacement cards are on their way to participants' home mailing address. In the meantime, please be advised that the policy number ASOP90844, is printed correctly on the back of the card.
Please be sure to give the new information to your medical providers when receiving services so that they can update their records. This will ensure claims for services received after January 1, 2003 are processed through The Principal.
Questions? See the Frequently Asked Questions and Answers web page or contact Benefits Administration at x4-8487.

Happy Chinese New Year!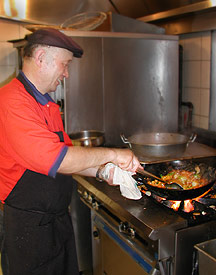 Andrew Shih cooks up a storm for the special luncheon served at the TSRI cafeteria in honor of the Chinese New Year. Photo by Kevin Fung.