Brian Bothner
Title: Research Associate in Professor John Johnson's lab.
Research Topic: Viral caspid protein dynamics. "There is evidence that the structure of a virus is mobile in solution, but no one has ever quantified that movement. That's what I'm trying to do. This is important because if you inhibit the dynamics of the virus, you inhibit its infectivity."
Background: B.S. in biochemistry from the University of California at Santa Barbara. Master's degree in biology from Humboldt State University. Brian joined TSRI in 1994 as a technician in the mass spectrometry lab. In 1998, he left to do graduate work with Richard Kriwacki (a former TSRI postdoc) at The University of Tennessee at Memphis and St. Jude Children's Research Hospital. There, Brian worked on a cancer-related topic involving a tumor suppressor (p14ARF) and oncogene (HDM2), both implicated in a large percentage of cancers.
Returned to TSRI: November 2002.
Thoughts on the John Johnson Lab: "Jack motivates us all through his enthusiasm. Everyone is excited about what they are doing. That makes it fun to be in his lab."
On TSRI: "It's a neat environment. There are so many different research projects, from basic chemistry to applied biology. Being here, you can attend seminars on a whole spectrum of topics."
Family: Brian met his wife Sarah, currently completing a master's degree in physical therapy, when he worked at TSRI in the '90s. "She was a technician with [Associate Professor] Klaus Hahn. Our labs were next door to each other."
Extracurricular Activities: Biking, hiking, marathon running, surfing, bird watching. "All that outdoor stuff. It's great to be back on the West Coast!"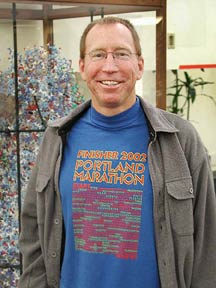 Brian Bothner, who worked in TSRI's mass spectrometry lab from 1994-98, recently returned for postdoctoral studies in John Johnson's lab. Photo by Jason S. Bardi.