In Brief
Tan Wins Rheumatism Research Award
The Scripps Research Institute (TSRI) Professor Eng Tan has won this year's Japan Rheumatism Foundation/Wyeth Lederle Japan International RA Award. Founded last year, the award is designed "to recognize investigators who have made outstanding contributions to the advancement of rheumatology-related research in areas including disease prevention, disease factor, and treatment evolution, as well as [who have] helped raise the issues to an international level." Tan will be a special guest speaker at the Japan College of Rheumatology annual meeting in Tokyo, Japan, in April.

TSRI Security Guard to Race in the Nationals
Those following TSRI Security Guard Karl Thorpe's recent athletic successes will be happy to learn he received a letter inviting him to race in the national senior championships to be held in Virginia Beach in June. "I've been having a great year," says the 64-year-old sprinter, who recently brought home medals from the state championships. "It's like having a little bit of youth back."

New English-as-a-Second Language Class to Begin
A new English-as-a-second-language class will begin Tuesday, January 28. Instructor Cassandra Wadkins' class meets from 6:30 to 8:30 PM every Tuesday evening in the Immunology Building West Conference Room. The price for three months (12 classes) is $60. Each intermediate-level English class is divided into speaking and listening, idioms and vocabulary, and reading and writing. If you would like to improve your English communication skills and your understanding of friends, colleagues, movies, television shows, and the news, this class is for you. The instructor uses movies, games, television shows, grammar books, songs, drawing and novels to teach standard American English. For more information, please leave a message at x4-2176.

Lunch & Learn: "Balancing Work and Personal Life"
Clinical psychologist Maureen Moss will present "Balancing Work and Personal Life: Creatively Meeting this Lifelong Challenge," as part of the ongoing Lunch and Learn seminar series on Wednesday, January 22, from noon to 1 PM. Topics will include: preliminary signs of imbalance, benefiting from your times of imbalance, simple techniques to create more balance in your life, and enhancing your capacity for fun and creativity. The event will be held in the W. M. Keck Amphitheater, Beckman Center for the Chemical Sciences. For more information, contact Jan Hill, x4-2950.

Learn about Word's Mail Merge
Feature Have you ever been baffled by Word's Mail Merge feature? Did you know that you can create sophisticated data source documents and use Mail Merge to extract the data? You can also use Mail Merge to create envelopes or labels from your Access data – it's much easier than creating a new Access output report. Learn how to enter new data using the Data Entry Form, or update the data source table directly. All this and more will be addressed in the Mail Merge class scheduled for Tuesday, January 21, from 8:30 to 11 AM. To enroll, go to http://www.scripps.edu/rc/training/dapps_signup.html.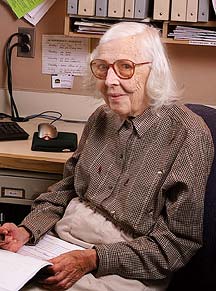 Administrative Assistant Olive Richardson, who worked at TSRI's General Clinical Research Center (GCRC) for 20 years, retires this week. "I am grateful to have had a chance to work at the GCRC," says Richardson. "It was interesting work and there's a super group of people there." Richardson plans to spend her time reading books and keeping up with the news. "There isn't time to be bored," she says. Photo by Biomedical Graphics.