In Brief
Senior Basket Project Begins
It's time again for the ScrippsAssists Annual Senior Basket project, organized in conjunction with the Downtown Senior Community Center. ScrippsAssists is collecting specialty items for seniors, including: mugs, ornaments, other gift items, hand towels, slippers, socks, gloves, scarves, flashlights, batteries, stamps, calendars, razors, stationery, lotion, and Ensure or equivalent drinks. Baskets will be assembled December 10 and 12 from 4:30-7PM (sandwiches provided; children welcome.) ScrippsAssists is currently looking for people to put a box in their area or building to collect the items. ScrippsAssists will also accept monetary donations. Checks should be made out to ScrippsAssists and sent to Helen Plutner at MB6. Send questions to scripps-assists@scripps.edu.

Lunch and Learn: "Identity Theft: When Bad Things Happen to Your Good Name"
Jay Foley, director of Consumer/Victim Services Identity Theft Resource Center will present "Identity Theft: When Bad Things Happen to Your Good Name" on Wednesday, November 20, from noon to 1 PM as part of the ongoing Lunch and Learn Series. He will address topics including: who these criminals are, how they steal, why they are dangerous, how you can protect yourself, what to do if you are a victim of identity theft, what legislative and assistance programs are in place to help victims, and how businesses and companies can protect you or put you at risk. The seminar will be held in the W.M. Keck Amphitheater The Beckman Center for Chemical Sciences. For more information, contact Jan Hill, x-42950.

Want to Change Your Benefits?
Open Enrollment for TSRI benefits plans will be held online Monday, November 4 through Friday, November 15. Open Enrollment is the annual opportunity for participants to make changes to their benefit selections and, if eligible, enroll (or re-enroll) in the healthcare and/or dependent care spending accounts for 2003. Instructions on how to access the online system will be mailed to all eligible participants' homes by November 4. There will also be a kiosk available in Human Resources for employees who DO NOT have computer access. During Open Enrollment, Human Resources will hold a variety of benefits-related events, including a benefits fair (see below) and several question-and-answer sessions with Human Resources staff. See the Human Resources calendar of events web page.

TB Screenings, Hepatitis B Immunizations, and Serum Draws
On Monday, November 11, Wednesday, November 13, and Friday, November 15, personnel from Sharp Rees-Stealy Medical Group will be on-site to conduct TB screenings, Hepatitis B immunizations, and serum draws. The clinics will be conducted at the Administrative Offices (3301 North Torrey Pines Court) on the P1 level from 11 AM to 2 PM on each of the three dates noted above. No appointments are necessary.
TB screening requires a 48 to 72 hour follow-up. Individuals receiving the TB screen on Monday will need to return on Wednesday; individuals screened on Wednesday, will need to return on Friday. Initiation of the TB screening process will not be available on Friday, but Hepatitis B immunization and serum draws will be. To learn more about these programs, see the Environmental Health & Safety Occupational Medicine web page which includes a map and patient information sheets.


Questions and Answers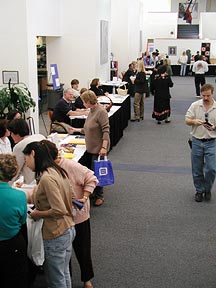 The Human Resources Department hosted its annual benefits fair November 5, giving TSRI employees a chance to learn more about their benefits and have specific questions answered. Photo by Jason Bardi.