Scientists Identify Thousands of Proteins Associated with Malaria
"This is the first instance that I know of where these proteomics studies have gone along side-by-side with the genome sequencing project," says Professor John Yates of the work he published with researcher Laurence Florens this week in Nature.
Scientists Develop Method to Map Spread of Malarial Drug Resistance
Investigator Elizabeth Winzeler's group published a paper in Science this week detailing a way to use a relatively new but readily available technology to quickly detect markers in the DNA of the most deadly type of malaria pathogen.
The Anatomy of a Parasite
A primer on malaria.
Patapoutian wins Damon Runyon Scholar Award
TSRI Assistant Professor Ardem Patapoutian was one of five Damon Runyon Scholars selected this year. According to the Damon Runyon Cancer Research Foundation's web site, the award "was established to support the development of outstanding scientists as independent investigators in the cancer field...."
"Fast breaking" paper from the Janda lab
According to the Institute for Scientific Information (ISI) Essential Science Indicators, October's "fast breaking" paper in chemistry was published by TSRI scientists. The paper, "Polymer-supported catalysis in synthetic organic chemistry," was authored by B. Clapham, T. S. Reger and K.D. Janda and published in the journal Tetrahedron on May 28, 2001.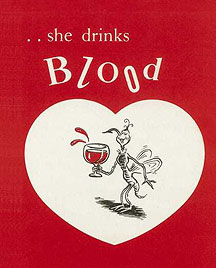 This is Ann... Her full name is Anopheles Mosquito and she's dying to meet you!
From a series of illustrations titled, "What To Do About Ann" written and drawn by Theodor Seuss Geisel and distributed by the United States Army for GIs serving in the tropics in the fall of 1943. Illustrations courtesy of the Dr. Seuss Collection, Mandeville Special Collections Library, UCSD.