Flower Hour: TSRI Scientists Discover the Genes a Plant Uses to Time its Flowering Cycle
TSRI's Research Associate Marcelo Yanovsky and Professor Steve Kay have described how a plant grown in their laboratory uses two sets of proteins to detect the seasons so that it can flower at the right time. And by tinkering with those proteins, the scientists were able to make the plant flower at will.
TSRI Development Office Launches Fundraising Initiative to Purchase Immunology Building
"This is a one-time opportunity to obtain the [Immunology Building] at below current market value," says Director of Development Denise M. Scalzo.
Senior Faculty News: Promotions and Appointments
Steven Henriksen has been promoted to the rank of professor. Juan Carlos de la Torre, Nigel Mackman, and Luc Teyton are now associate professors with tenure. Professor Hugh Rosen recently joined the Department of Immunology.
Nicolaou Wins Tetrahedron Prize
TSRI investigator K.C. Nicolaou is the recipient of the 2002 Tetrahedron Prize for Creativity in Organic Chemistry for "his creative and productive investigations in natural products synthesis, which, through his remarkable ingenuity and ability to develop novel synthetic technologies, have enabled him to extend the frontiers of the field into challenging new areas."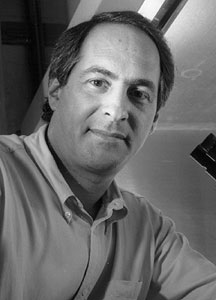 Weighing the Risks and Benefits of Xenotransplantation

"It is the transition from individual risk to public health risk where the real controversy comes," says TSRI investigator Daniel Salomon.