In Brief
Ethics in Science Course
TSRI's annual "Ethics in Science" course will be presented by Thomas Northrup, of the TSRI Office of Patent Counsel, on Tuesday, September 17 and Monday, September 23, 9 AM to noon in the Scripps Green Hospital's Valerie Timken Amphitheater. All research associates/postdoctoral fellows who have not previously attended the course at TSRI are required to register for one of these courses. Registration forms and information will be mailed to all new research associates. Please complete the form and return it to Ruth Stewart (mail drop TPC-9) as soon as possible. For further information, please contact Ruth Steward, x4-9390, Office of Technology Development.

One Kindergarten Opening Left at Gluck Child Care Center
The Gluck Child Care Center has one opening for the kindergarten program in the fall. The child must be five years of age by January 2003 to be considered.
Features of the program include:
a small class size of 12 children;
individualized instruction;
a stimulating learning environment;
strong programs in math, science, language arts, and reading
art, music, drama, and physical education;
nutritious hot lunch and snacks included;
a degreed teacher with nine years of teaching experience;
convenient hours from 6:45 AM. to 6:45 PM;
limited holiday closings (open during the winter and spring breaks);
convenient location at 10660 John Jay Hopkins Drive;
accreditation by the National Academy of Early Childhood Programs.
Call (858) 455-5220 for details on fall enrollment.

Look for Next News&Views September 9
The next issue of News&Views will be posted by Monday, September 9, at which time a weekly publication schedule will resume. The deadline for announcement and calendar submissions is Wednesday at noon for the following Monday's publication.

Golf Par Excellence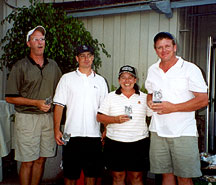 Over 150 people participated in the Seventh Annual TSRI Golf Tournament at Carlton Oaks Country Club in Santee on August 8. Players on the winning team were (above, left to right) Kim Janda, Avery Cole, Paula Foley, and Matt Foley. Second place winners were Scott Engelland, Larry Ley, Bob Schultz, and Tom Johnson. Third place winners were Steve Mayfield, Tim Lovell, Andrew Shih, and Jim Freddo. Photo by Marylyn Rinaldi.