In Brief

Schmid Wins Pinnacle Award
Sandra L. Schmid, professor and chair of the Department of Cell Biology at the Scripps Research Institute (TSRI), has won a Pinnacle Award from UCSD Athena, an organization dedicated to supporting women executives in high-tech and life sciences. The Pinnacle Awards recognize women and men who foster personal and professional change through inclusion, risk taking, education, recognition, and diversity of thought.
Schmid (B.Sc., University of British Columbia; Ph.D., Stanford University) runs a laboratory that conducts research on endocytosis, an uptake mechanism that allows cells to ingest various substances including nutrients, growth factors, viruses, and toxins. She also heads TSRI's Department of Cell Biology, which consists of 42 faculty members, about 125 postdoctoral fellows, and over 20 students. The recipient of numerous awards and honors and a member of the American Society of Cell Biology Council, Schmid has served on the editorial boards of "Trends in Cell Biology," "The Journal of Cell Biology," "The FASEB Journal," and is founding co-editor of "Traffic: The International Journal of Intracellular Trafficking."

Lerner to Speak as Part of Faculty Lecture Series
TSRI President Richard Lerner will give a talk entitled "The Magic Bullet May Be Loaded with Ozone" as part of the Faculty Lecture Series on Wednesday, May 8. The lecture will be held at 5 PM in the Timken Amphitheater, Scripps Clinic, 10666 North Torrey Pines Road.

Skaggs Lecture to Address "Selection of Clinical Candidates"
TSRI investigator Tamas Bartfai will give the final lecture in the 2002 Skaggs lecture series, "Selection of Clinical Candidates: Multiple Pressures," on Thursday, May 9. The presentation will focus on the key milestones of preclinical drug development—timing, expenditures, backup strategies, outside validations, and orphan drugs—as these factors play out in big Pharma decision-making. The lecture will be held from 5 to 6:30 PM in the Neurosciences Institute Auditorium, 10640 John Jay Hopkins Drive. For more information, see News&Views articles "The Other Side of Drug Discovery, Part 1" and "The Other Side of Drug Discovery, Part 2" (with video clip).

TSRI to Host First Annual Open House/Job Fair
TSRI will host the First Annual Open House/Job Fair on Friday, May 10, from 10 AM to 2 PM, in the Beckman Center for Chemical Sciences. The event will include lab tours and a resume and interviewing seminar. Human Resources staff will be on hand to answer questions. Refreshments will be provided. Directions, a campus map, and parking information can be downloaded from the Human Resources Job Fair website.

TB Screenings, Hepatitis B Immunizations, and Serum Draws
On Monday, May 13, Wednesday, May 15, and Friday, May 17, personnel from Sharp Rees-Stealy Medical Group will be on-site to conduct TB screenings, Hepatitis B immunizations, and serum draws. The clinics will be conducted at the Administrative Offices (3301 North Torrey Pines Court) on the P1 level from 11 AM to 2 PM. No appointments are necessary. TB screening requires a 48 to 72 hour follow-up. Individuals receiving the TB screen on Monday will need to return on Wednesday; individuals screened on Wednesday, will need to return on Friday. Initiation of the TB screening process will not be available on Friday, but Hepatitis B immunization and serum draws will be. To learn more about these programs, see the Environmental Health & Safety Occupational Medicine web page which includes a map and patient information sheets.

Art and Craft Fair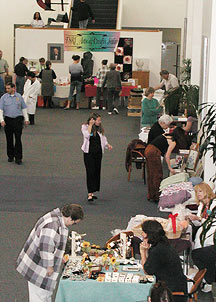 TSRI employees bought and sold handcrafted items at the recent Spring Craft Fair. Photo by Kevin Fung.