"The Race is So On":
Next Generation of Scientists Find Their Stride at TSRI
Two participants of the Spring Enrichment Tutorials at The Scripps Research Institute (TSRI)—Claudia Hernandez, a senior at Chula Vista High School, and Marvin Hamlin, a junior at the San Diego School of Creative and Performing Arts—are going head-to-head. Both claim that someday they will cure cancer.
"The race is on," says Hernandez. "It is so on!"
Call it youthful arrogance or youthful exuberance, the 18 high school students accepted into TSRI's High School Research Education Program have got it and TSRI's program gives focus to their ambition. Throughout April and May, these students will participate in weekly tutorials on aspects of modern cellular and molecular biology and chemistry.
The young participants were selected from a large pool of applicants by Vice President of Communications Robin Clark (formerly Goldsmith); Program Coordinator Jennifer O'Sullivan; and representatives from the Neighborhood House Association (which administers funds from the San Diego Workforce Partnership). The program's other funding sources include the Hearst Foundation and the French Fund, administered by Wells Fargo Bank.
TSRI doctoral candidates teach the tutorials, which challenge the students at a level that matches their aspirations. The combinatorial chemistry tutorial, for example, was designed by doctoral candidates Scott Wolkenberg and Andrew Su. With Su graduating in May and Wolkenberg to follow, second-year graduate students Brendan Crowley and Byron Purse are taking up this torch.
"The purpose of the [April 27] lab is to demonstrate the fundamentals of combinatorial chemistry as it is applied to drug discovery," says Purse. "We wanted to illustrate how known mixtures of candidate compounds can be prepared employing reliable chemical linking strategies and [then show students] how these mixtures could be screened for a specific activity, in this case antibiotic."
In the lab exercise, three aldehydes are reacted with three hydrazines to form nine hydrazones in known mixtures. This is the combinatorial library. One of the resulting compounds, guanofuracin, is a known antibiotic. After carrying out the reactions, students inoculate agar plates with a broth culture of E. coli and bore cups in the plates with the large end of a glass pasteur pipet. A few drops from each mixture of compounds are then placed in each cup. After incubating the plates overnight, a bacterial lawn develops, leaving a clear plaque around any cup containing a compound with antibiotic activity.
"The students did really well," Purse reports. "They were really enthusiastic about it and actually finished faster than we expected. They haven't seen the results yet, but nearly all of the plates look perfect."
Students will be able to observe the plates next Wednesday during the "Drug Development & Diseases" class. Crowley and Purse will show them how the results are deconvoluted and the active compound "discovered."
"We do lab experiments at school, but not with E. coli," Marvin Hamlin observes. "I was able to understand the lab preparation, protocol, and procedure. And you know, I didn't come home with green fingers."
They Learn Something New Every Week
In addition to combinatorial chemistry, other topics covered during the Spring Enrichment Tutorials include HIV, forensics, mass spectrometry, cells, and microscopy. Classes entitled "Grants & Money" and "Policy, Ethics & Current Events," in which students discuss difficult policy decisions regarding stem cell research and the allocation of anti-HIV drugs in developing countries, give high school students much to think about. The myriad topics also stimulate the students' ideas about areas they might like to work in during the more deliberate, focused summer internship—the second part of the program.
"After the HIV class I really wanted to do work on the human immunodeficiency virus," says Claudia Hernandez. "But then after Mike [Dorrell, graduate student and tutorial coordinator] talked about angiogenesis on Saturday, I might like to work on something related to that instead. I guess I want to do everything!"
For graduate students like Dorrell who choose to participate in the tutorials, the opportunity to expose high school students to current research and contemporary issues in science is truly rewarding. "It's great to see how excited they get about science," Dorrell says. "And interacting with graduate students provides them with a glimpse of what their academic futures will hold."
Hernandez weighs in with the students' perspective. "The instructors are so educated and well-versed in their fields," she says. "They never have that look [that says], 'please don't ask me any questions!'"
Hamlin adds, "I love working with the grad students because it shows the kind of dedication one needs to be a good scientist."
Speaking of the pursuit of good science, what does Hamlin think of the fact that Hernandez—soon-to-be microbiology student at the University of California at Santa Barbara and his competition in the quest to cure cancer—will be leaving for college a full year before he does?
"Head starts don't mean everything," he responds. "I'll be catching up soon, and when I do find my cure for cancer I'll be sure to let everyone know that I once worked at The Scripps Research Institute."
Ah, youth. Must be spring again!
---
Link:
For the combinatorial chemistry lab that TSRI graduate students Scott Wolkenberg and Andrew Su designed for high school students, see their publication in the Journal of Chemical Education, 2001, 78, 784.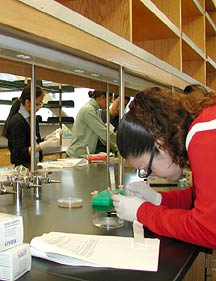 Lincoln High School student Karina Garcia (front) prepares an agar plate during the combinatorial chemistry lab at a recent spring enrichment tutorial. In the background, Andrew Su, who helped design the lab, assists Helix Charter School student Amy Leff (middle) and Mission Bay High School student Bich Tran (far left). Photo by Jennifer O'Sullivan.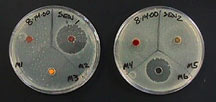 Typical results from the lab: agar plates grown overnight are covered by a lawn of bacteria except for areas surrounding antibiotic compounds.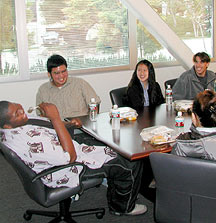 Marvin Hamlin (far left) enjoys a break during the Saturday spring enrichment tutorial along with (clockwise) Reinhart Arquiza, Bich Tran, Mike Dorrell, and Angel Nguyen. Photo by Jennifer O'Sullivan.