Vivian Lodes
Title: Events Coordinator.
Duties: Duties include:
Organizing four major events per year—the TSRI-wide picnic (scheduled for July 19 this year), the annual employee recognition banquet, the annual director's meeting at the zoo, and the Shared and Support Services Holiday Party.
Scheduling the "floats," two administrative assistants who work full-time for TSRI, filling in where needed at the institute.
Scheduling TSRI employment representatives to attend job fairs sponsored by universities and community venues.
Coordinating the quarterly directors and managers meeting.
Acting as the Human Resources contact for postdocs and work-study participants.
Organizing orientations for new employees.
Favorite Part of Job: "Probably having met almost everyone at the institute, at least by phone." She also thrives on taking care of details.
Favorite Work Tool: Her notebook. "I record almost every call I receive."
Started at TSRI: 1996.
Promoted to Current Position: January 2002.
Background: On-the-job training in bookkeeping and accounting, work in the biotech industry.
Extracurriculars: Cooking. "I've gotten to the point where I can read a recipe and know what it will taste like." Crafts, including sewing, quilting, needlework, plastic canvas and cross-stitching. Cruises—most recently to Acapulco.
TSRI Activities: Organizing the campus weight-watchers group, which has been going strong for three years. Participating in the TSRI Craft Faire.
Pets: Two cats, Dusty (17 years old) and Mooky (one year old). "The little one keeps the older one interested in life."<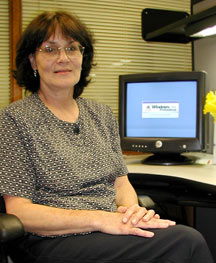 Vivian Lodes was promoted to events coordinator early this year. Photo by Kevin Fung.