In Brief

TSRI President Named "Scientist of the Year"
The Achievement Rewards for College Scientists (ARCS) Foundation honored The Scripps Research Institute's (TSRI) President Richard Lerner on April 24 as the 2002 Scientist of the Year.
According to the ARCS Foundation, "Dr. Richard Lerner's 35-year scientific career is significant not only for the broad scope of his achievements, but for his leadership as president of The Scripps Research Institute, the country's largest private, nonprofit biomedical research organization. The accomplishment for which he is perhaps most well known is the groundbreaking work of converting antibodies into enzymes, permitting the catalysis of chemical reactions considered impossible to achieve by classical chemical procedures.
"A member of the National Academy of Sciences and a foreign member of the Royal Swedish Academy of Sciences, Dr. Lerner graduated from Northwestern University and Stanford Medical School. He interned at Palo Alto Stanford Hospital and received postdoctoral training at Scripps Clinic and Research Foundation. Since 1970 he has held staff appointments at The Wistar Institute in Philadelphia and at TSRI. He assumed the presidency of TSRI in 1986."
TSRI Professor Floyd Bloom and Department of Neurobiology Chair Gerald Edelman are previous winners of the honor from the ARCS Foundation, which provides scholarships to academically outstanding United States citizens studying to complete their degrees in science, medicine, and engineering.

Lerner to Speak as Part of Faculty Lecture Series
TSRI President Richard Lerner will give a talk entitled "The Magic Bullet May Be Loaded with Ozone" as part of the Faculty Lecture Series on Wednesday, May 8. The lecture will be held at 5 PM in the Timken Amphitheater, Scripps Clinic, 10666 North Torrey Pines Road.

TSRI to Host First Annual Open House/Job Fair
TSRI will host the First Annual Open House/Job Fair on Friday, May 10, from 10 AM to 2 PM, in the Beckman Center for Chemical Sciences. The event will include lab tours and a resume and interviewing seminar. Human Resources staff will be on hand to answer questions. Refreshments will be provided. Directions, a campus map, and parking information can be downloaded from the Human Resources Job Fair website.

American Chemical Society Hosts "BioEntrepreneur Symposium"
The American Chemical Society, San Diego section, invites you to participate in the "BioEntrepreneur Symposium 2002: Exploring Opportunities for New Ventures in Biotechnology," on May 11, 8 AM to 5 PM in the Price Center Ballroom, University of California, San Diego. Join a group of veteran entrepreneurs for a day of education and networking. Learn about the entrepreneurial process through presentations and panel discussions by those who helped make San Diego a leading biotechnology center. Hear from intellectual property managers, investors, business leaders and others who have turned their bench discoveries into successful business ventures. This symposium will provide the knowledge needed to navigate the complex path to start-up success.
Registration is $10 for students and post-doctoral researchers and $25 for all others before May 1. After this date, fees are $15 and $30, respectively. Registration includes all presentations, breakfast, lunch, and a cocktail reception. To register or to obtain more information, visit the symposium web site at www.bioentrepreneur.ucsd.edu.

Lunch and Learn: "Building a Strong Marriage"
What really predicts unhappy marriage and divorce? What do happily marrieds do that unhappily marrieds don't? What are the steps to rebuild a strong marriage? Clinical Psychologist Colleen K. Hoblit will speak on "Building a Strong Marriage" on Monday, April 29, from 12:30 to 1:30 PM, as part of the ongoing Lunch and Learn seminar series. The event will be held in the W.M. Keck Amphitheater in The Beckman Center for Chemical Sciences. No registration is necessary. For more information, contact Jan Hill, x4-2950.

Scientific Report, Faculty Database Information Due May 3
The due date for submitting information for the Scientific Report and Faculty Database is Friday, May 3. Principal investigators who hold appointments in the Skaggs Institute for Chemical Biology are asked to submit an additional report for the Skaggs Institute, due Friday, September 13.
PDF files of the guidelines for the preparation of this year's Scientific Report, Skaggs Institute Report, and the Faculty Database are now available online:

Mother's Day to Follow May 2 Spring Craft Fair
This year, the Spring Craft Fair will be held shortly before Mother's Day—on Thursday, May 2, from 11 AM to 2 PM in the Immunology Galleria. The crafts for sale will include jewelry, homemade soaps, gift baskets, airplants, chocolates, table runners, handmade quilts, children's clothing, cards, and wall hangings. For more information, contact Bonnie Towle, x4-2167 or e-mail btowle@scripps.edu.

Jo Ann Anderson Retires After 21 Years of Service to the Institute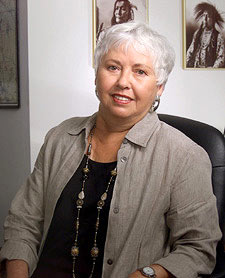 Development Officer Jo Ann Anderson is retiring to dedicate more time to her work on the boards of The San Diego River Park Foundation and the San Diego River Park-Lakeside Conservancy. "I've enjoyed every minute of my time with TSRI," says Anderson, "and I hope to continue my association with the institute and the faculty by serving on special projects from time to time. It's been a real privilege to be a part of the team at TSRI. My thanks to Richard Lerner, Jeffery Kelly, and to all of the wonderful staff and scientists with whom I've had the honor or working."