Behind a Free Lunch
By Mika Ono
The lunch line, composed of homeless residents of St. Vincent de Paul Village, started to grow around 11 AM. Bustling around the kitchen were a dozen volunteers from ScrippsAssists, the volunteer group composed of employees from The Scripps Research Institute (TSRI), Scripps Green Hospital, and Scripps Clinic.
On the menu that day was pizza—cheese, pepperoni, or "everything"—chicken soup, and salad. Kids' meals also included milk, and chocolate or vanilla pudding.
For a busy hour and a quarter, ScrippsAssists volunteers took orders, ladled soup, assembled trays, and replenished supplies for the 600 or so men, women, and children, who were taking advantage of the one free meal a day served there.
"I started volunteering at St. Vincent's because I wanted to help," says Linda Soo Hoo, a research technician in the Chan lab who has been organizing the ScrippsAssists lunch brigade for the past year. "I got angry when I watched the news and wanted to do something about it."
Soo Hoo and other volunteers—a group usually made up about equally of returning participants and first-timers—meet about once a month at 10 AM in the lobby of St. Vincent de Paul, located downtown on Imperial Avenue. Volunteers don blue "ScrippsAssists" t-shirts and orange volunteer badges in the lobby, then gloves and hair nets before they go to work in the kitchen.
After the kitchen window closes at lunch hour's end, volunteers clean up and are welcome to help themselves to lunch (which they attest is usually pretty tasty).
Cheryl Lloyd, administrative assistant in the Schultz lab, volunteered in the kitchen for the first time last month, bringing her 10-year-old son, Christopher. "The experience was very rewarding," she says. "It made Christopher appreciate what he has, especially seeing kids younger than himself [at the homeless residence]. A lot of the people there were very grateful and appreciative... I definitely plan on doing it again."
Ellen Klahn, administrative assistant in the Burton lab, is a regular in the group. She also began volunteering as a family activity—but initiated by her daughter, who needed to fulfill a community service requirement for a high school class. "I have continued volunteering to recognize how fortunate I am," she says, "and to make life a little easier for someone else. There are wonderful people who happen to be homeless. They just need a little help to get on their feet."
St. Vincent de Paul Village provides access to integrated and comprehensive services designed to meet its clients' immediate and future needs. In addition to the free lunch, the organization provides adult education, counseling, medical/dental care, children's services, and job training.
For more information about volunteering at St. Vincent de Paul Village or organizing this group when Soo Hoo leaves for graduate school in the fall, contact Soo Hoo, x4-9586 or e-mail lsoohoo@scripps.edu.
For more information about ScrippsAssists and the activities it sponsors, see the ScrippsAssists website. In addition, the organization's president, Helen Plutner—who is currently recruiting members for the ScrippsAssists Committee to help organize the projects, publicize the group, and make policy decisions—is available at x4-8257 or e-mail plutnerh@scripps.edu.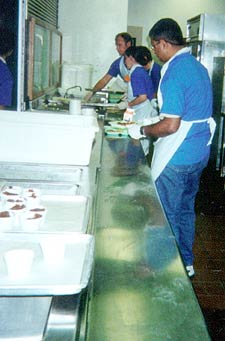 ScrippsAssists volunteers help serve a free lunch for the homeless. Photo by Mika Ono.