In Brief
Lunch and Learn: "Sleep? Why Bother?"
Physician Milt Erman will present "Sleep? Why Bother?" as part of the ongoing "Lunch and Learn" seminar series, on Wednesday, January 30, from noon to 1 PM, in the W.M. Keck Amphitheater, The Beckman Center for Chemical Sciences. No registration is necessary. If more information is needed, contact Jan Hill, x4-2950.

Got a Health Plan Card?
Benefits Administration would like to remind you that if you are in need of a new health plan card or have never received one please call PCS at 1-800-966-5772. The health plan cards cover all health and welfare plans (medical, dental, vision, mental health, and prescription) and will be mailed to your home address. If your address has changed, please call Human Resources to update this information.

Vaccines Delayed Due to Shortage
Sharp Rees-Stealy has informed TSRI that there is a nation-wide shortage of various vaccines and medical testing supplies due to the recent needs of the military. Therefore, they will not have any vaccines (Hepatitis B, Hepatitis A, tetanus, etc.) or TB testing available at the onsite clinics or at Sharp Rees-Stealy Medical Center Occupational Medicine Program for about six weeks. Environmental Health & Safety will let you know when the vaccines and TB testing will be available. Serum draws and titers are available as usual. Health care professionals at Sharp note that this slight delay in scheduling of the vaccine series will not be a problem for those being vaccinated. Please call the Biosafety Office at x4-8240 with any questions.

Reception for Mary Lynn Giles
Finance invites you to join in saying farewell and best wishes to Mary Lynn Giles, who is retiring after having worked in Accounts Payable for over 12 years, at a reception from 1 to 3 PM on Friday, February 1 in the Finance/Procurement area of the Administrative Building.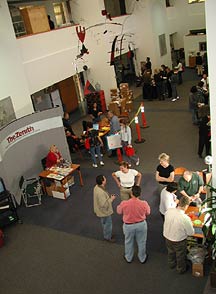 TSRI employees learned about new safety programs and the latest in ergonomically sound equipment and furniture at the Traveling Safety Show last week. Photo by Kevin Fung.