In Brief

The Society of Fellows to Hold Fall Research Symposium
The Society of Fellows will hold its Fall Research Symposium on Thursday, November 8. The symposium will include a Structural Biology Session from 9 to 11:30 AM in the Skaggs Institute/MBB Committee Lecture Hall; an Immunology Session from 1:30 to 4 PM in the Beckman Building's Keck Amphitheater; a Cell and Molecular Biology Session from 1:30 to 4 PM in the Immunology East Conference Room; and a Chemistry Session from 1:30 to 4 PM in the Valerie Timken Amphitheater of Green Hospital. For more information, see the Society of Fellows website.

Reza Ghadiri to Speak as Part of Faculty Lecture Series
TSRI Professor M. Reza Ghadiri will speak on "Design of Biologically Relevant Molecular Assemblies" as part of the Faculty Lecture Series Wednesday, November 14. The lecture will be held at 5 PM in the Timken Amphitheater, Scripps Clinic, 10666 North Torrey Pines Road.

Lunch and Learn: "Stretching, Breathing, and Relaxing: An Introduction to Yoga in the Workplace"
Jolie Cash will present " Stretching, Breathing, and Relaxing: An Introduction to Yoga in the Workplace" as part of the ongoing "Lunch and Learn" seminar series, on Friday, November 16, noon to 1 PM, in the Immunology East Conference Room at Immunology Building. No registration is necessary. If more information is needed, contact Jan Hill, x4-2950.

ScrippsAssists Begins Senior Basket Project
ScrippsAssists is starting its annual Senior Basket Project. The project is in need once again of your generous help, through contributions of time, money, or items for holiday baskets. ScrippsAssists is coordinating this project with The Senior Community Center, which provides quality, customer-focused services to help seniors maintain their independence.
The Senior Basket Project is in need of the following items: slippers, gloves, hats, socks, hand towels, mugs, holiday items, calendars, stamps, stationery, shampoo and conditioner, magnifying glass, Reader Digest issues, Kleenex, mouthwash, combs, nail clippers, flashlight and batteries, drinks such as Ensure or Boost, and cellophane wrap (for the baskets). Only new items please. This year, the project will be providing baskets, toothpaste, toothbrushes, soap, and deodorant. These items cost over $600, so ScrippsAssists is asking for monetary donations. Checks can be made out to "ScrippsAssists" and mailed to IMM11, attention Helen.
Locations of drop off boxes will include the Immunology, Molecular Biology, Human Resources, ICND, MEM (main conference room), CVN, BCC (near coffee cart), and 3377 Departments. If you are willing to put a box or poster in your area please contact ScrippsAssists.
Several evening dates for assembly of the baskets will be posted at a later date. Kids are welcome. For more information, contact ScrippsAssists at scripps-assists@scripps.edu.

Open Enrollment Held Through November 9
Open Enrollment—the annual opportunity for employees to make changes to their benefit selections and, if eligible, enroll (or re-enroll) in the healthcare and/or dependent care spending accounts—will be held via a new online system through Friday, November 9. See the Open Enrollment web page. A kiosk will be available in the Human Resources Department for those employees who do not have computer access.
Benefits staff will be available to answer questions and provide assistance at the following times and locations:
Monday, November 5, 2 to 3 PM in the MEM, multi-purpose room;
Tuesday, November 6, 2 to 3 PM in the ICND, front lobby;

TB Screenings, Hepatitis B Immunizations, and Serum Draws
On Wednesday, November 14, and Friday, November 16, personnel from Sharp Rees-Stealy Medical Group will be on-site to conduct TB screenings, Hepatitis B immunizations, and serum draws. The clinics will be conducted at the Administrative Offices (3301 North Torrey Pines Court) on the P1 level from 11 AM to 2 PM. No appointments are necessary. Please note that Sharp Rees-Stealy personnel will not be on-site on Monday, November 12.
TB screening requires a 48 to 72 hour follow-up. Individuals receiving the TB screen on Wednesday, will need to return on Friday. Initiation of the TB screening process will not be available on Friday, but Hepatitis B immunization and serum draws will be. To learn more about these programs, see the Human Resources Occupational Medicine web page which includes a map and patient information sheets.

J. Craig Venter Speaks to Packed Auditorium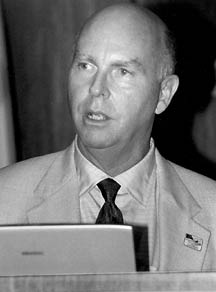 J. Craig Venter, president and chief science officer of Celera, drew a large crowd last week when he spoke on "Sequencing the Human Genome" as part of the Society of Fellows Distinguished Lecture Series.