In Brief
Open Enrollment to be Held October 29 to November 9
Open Enrollment—the annual opportunity for employees to make changes to their benefit selections and, if eligible, enroll (or re-enroll) in the healthcare and/or dependent care spending accounts—will be held via a new online system Monday, October 29 through Friday, November 9. Instructions on how to access the online system will be mailed to all eligible participants' homes by Friday, October 26 and will be posted in News&Views. A kiosk will be available in the Human Resources Department for those employees who do not have computer access.

Learn More About TSRI Benefits at the Benefits Fair
October 31 Human Resources will host a Benefits Fair on Wednesday, October 31, from 10 AM to 2 PM in the Immunology Building galleria. Representatives from each of the companies providing benefits, as well as Human Resources staff, will be available to answer questions and provide information. Refreshments will be served and a raffle will be held.

Toastmasters Club Hosts "Orchestrating Your Message: the Magic of Vocal Variety"
Mark your calendars for 1 PM on Monday, October 22, 2001 when the Toastmasters Club will be hosting a dynamic duo. Not Batman and Robin, but (James) Alburger and (Penny) Abshire. Alburger and Abshire have over 40 years of experience as performers and professional speakers. They will supply participants with tools to improve their speaking during a fun, interactive, and entertaining seminar that will include music, magic, and audience participation. "Orchestrating Your Message: The Magic of Vocal Variety" will be held in the Keck Amphitheater of the Beckman Building. For more information, send e-mail to Kazunobu Kato at katochan@scripps.edu.
Lunch and Learn: "Love and Money: Financial Tips for Couples"
Jessica Richman, certified funds specialist, will present "Love and Money: Financial Tips for Couples" as part of the ongoing "Lunch and Learn" seminar series, on Wednesday, October 17, noon to 1 PM, in the W.M. Keck Amphitheater in the Beckman Center for Chemical Sciences. No registration is necessary. If more information is needed, contact Jan Hill, x4-2950.

Let Your Mouse Do the Walking: Use the Online Directory
Telecommunications wishes to remind TSRI employees that the online directory is available by clicking on the directory icon on the TSRI home page. It is not necessary to type in a complete word or name when searching; you may type a partial spelling and retrieve more hits. By using the online directory rather than dialing "0," employees will help avoid overloading the receptionists with calls. Please feel free to contact Telecommunications, x4-9701, with questions or concerns regarding the online directory.

TB Screenings, Hepatitis B Immunizations, and Serum Draws
On Monday, October 15, Wednesday, October 17, and Friday, October 19, personnel from Sharp Rees-Stealy Medical Group will be on-site to conduct TB screenings, Hepatitis B immunizations, and serum draws. The clinics will be conducted at the Administrative Offices (3301 North Torrey Pines Court) on the P1 level from 11 AM to 2 PM. No appointments are necessary.
TB screening requires a 48 to 72 hour follow-up. Individuals receiving the TB screen on Monday will need to return on Wednesday; individuals screened on Wednesday, will need to return on Friday. Initiation of the TB screening process will not be available on Friday, but Hepatitis B immunization and serum draws will be. To learn more about these programs, see the Human Resources Occupational Medicine web page, which includes a map and patient information sheets.

Feast Your Eyes on the New Art in the Cafeteria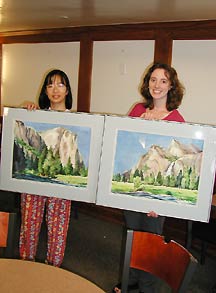 A new display of art by TSRI employees was installed in the cafeteria on Tuesday, October 9. Artists include: Helga Stark, Suresh Mahajan, Dave Soul, Anchi Cheng, Kay Cole, Kevin Fung, and Jason Bardi. The exhibit is scheduled to remain until mid-January. Here, Cheng (left), a research associate in the Yeager lab, prepares to hang her watercolors with the assistance of Administrative Assistant Suzanne Bacon. Photo by Mika Ono.