TSRI Summer Sports Leagues: Tradition for Some, Whole New Ball Game for Others
Not to worry—at no point will this story lament the impending final days of summer. After all, the sun is shining, the ocean's a sweet 71 degrees, and The Scripps Research Institute's (TSRI) summer sports leagues are in full swing.
"This is an exciting part of the season," says softball team captain Tessa Pritchard, a former TSRI employee who is a four-year sports league veteran. Her team is undefeated, a record she considers amazing given the fact that two seasons ago they had only one win. "At this point it's a close race," she says. "So any of the teams going to the playoffs could win!"
The softball league started back in late May and runs through the end of August, with playoffs scheduled for the first two weeks in September. During the regular season, 13 teams play six games each. Even with four games per week at the Clairemont Rec Center field, not all teams will face each other. However, because some squads have been in existence for several seasons, rivalries do exist that occasionally turn up the heat.
"The rivalries are harmless for the most part," says Barry Rutledge, senior safety consultant in Environmental Health and Safety, "but they can get a little intense." Barry has been playing in the league for five years and each year the team he's captained has made it to the playoffs.
"This really is a fun league," Barry emphasizes. "Two of its purposes [are] to give a stress release to our grad students and to expose foreign nationals working at Scripps to American sports."
To that end, many teams are comprised of individuals representing various countries, departments, and skill levels. For example, Team B, is a real international mix with players from France, Switzerland, China, the U.K., the Netherlands (and even Baltimore!). One player, Christoph Schmid, a Swiss postdoc in the Department of Molecular Biology, had never swung a baseball bat before joining the league. Now, he's getting regular hits and has learned not to overrun second and third base. Still, not everything survives translation.
When the Team B captain sent out an email referring to the team's final game as a "swan song" Christoph quipped, "What? Tonight we sing instead of softball?"
A second organized team sport, the bowling league, offers TSRI employees and their friends a crack at another American pastime. And, like the softball league, the bowling group encourages familiar faces and newcomers eager to learn the art of knocking down pins. Because it is a handicap league, meaning that each bowler is given a handicap based on his or her average, the chance of an upset is ever-present.
"Bowlers that couldn't score 100 even if their lives depended on it might thoroughly thump our Receiving Department premiere bowlers, Dave Kastner and Shane Blade," says bowling league president Bette Cessna (who is also softball league "Commish"). "And there's nothing more entertaining than watching an adorable little foreign student make Dave and Shane cry!"
The ten-year-old league plays on Thursday nights at the Sunset Bowl in Clairemont, one of San Diego's largest venues at 52 lanes. Four- to five-person teams, with creative names such as "Spare Me," "Rolling Blackout," and "E-bowla" compete from May through August. Both team and individual trophies are awarded at the season's end.
One team bound to get an award for improvement is "Eye Candy," the only all-female team in the league, which has rocketed from thirteenth to fourth place. Perhaps the matching shirts worn by teammates Alice Fraga, Joyce Nasella, Lorena Anderson, and Darlene Giglio—reading "WARNING: Does Not Play Well With Others"—have intimidated the competition.
"Laughter and general goofiness is the theme for our 'athletes,'" says Bette, who has been organizing sports leagues at TSRI for over ten years.
In addition to softball and bowling leagues, TSRI hosts a summer golf tournament and dinner. This year's event, the sixth annual, was held on August 8 at the Encinitas Ranch Golf Course and was open to all TSRI employees, families, and friends.
"We had 144 people," says Dan Talliac, grants administrator in the Office of Sponsored Programs and one of the event's coordinators in charge of recruiting sponsors. "About 80 percent were employees, most of whom have played in the past." According to Dan, the tournament was small in the early years, but has since grown into a great event. To keep costs down, the tournament is held on a weekday afternoon, but Dan says it's well worth taking the half-day off and paying the entrance fee.
Each participant pays $65 dollars towards the cost of greens fees and dinner, while sponsors supply prizes to the top three teams in the form of trophies and hats. A fourth trophy- a 24-inch golfer with a club wrapped around his head-is the "doormat" awarded to the last place team. In addition, participants are entered into a raffle. This year, the top prize was a brand-new Taylor Made driver, taken home by Todd Maxwell, safety consultant in Environmental Health and Safety, whose team came in second-to-last place in the tournament. "I guess I'm just lucky," he chuckles.
For more information on sports at TSRI, see the LINKS web page or send email to: sports@scripps.edu. Also, look for the Sports@Scripps webpage to premiere in early autumn, featuring information on the bowling and softball leagues, including team rosters, and a discussion of future leagues in volleyball, soccer, rugby, and other sports.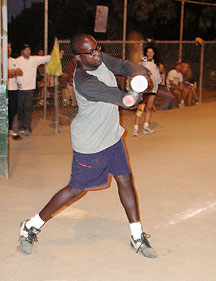 Ralph Pantophlet, a postdoc in the Burton Lab, connects during the August 21 twilight game at the Clairemont Rec Center. (Photo by Jason Bardi.)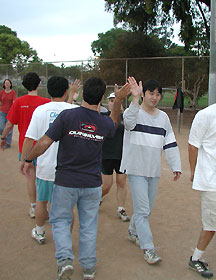 After the final showdown, "Team B" congratulates "The G-Stringers" on their win. (Photo by Jason Bardi.)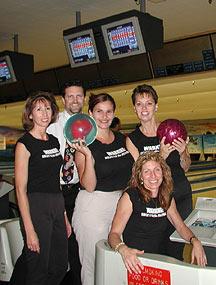 "Eye Candy," the only all-female team in the TSRI bowling league, has a greatly improved record this year. (Photo by Jennifer O'Sullivan.)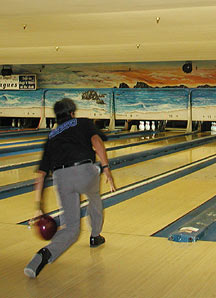 TSRI bowler goes for the strike. (Photo by Jennifer O'Sullivan.)

Joyce Tan, Datsun Hsia, Willis Kieper, and Jason Whitmeier (not pictured) were awarded the golf tournament's "doormat" prize. (Photo by Jason Bardi.)