In Brief

Gascoigne To Speak in Faculty Lecture Series
Immunology Associate Professor Nicholas Gascoigne will speak on "FRETting About T Cell Activation: Real-Time Visualization of Cell Surface Intermolecular Dynamics and Interactions" as part of the Faculty Lecture Series on Wednesday, May 9, at 5 PM. The lecture will be held in the Scripps Clinic Amphitheater. A reception will follow in the Immunology Building

American Cancer Society Sponsors "Relay for Life"
The American Cancer Society is sponsoring a 24-hour fundraising relay at the University of California, San Diego, (UCSD) on Saturday, June 23, and Sunday, June 24. In this overnight, family-oriented event, participants walk or run around a track relay-style. Teams collect donations and can win prizes for their efforts. Contact American Cancer Society volunteer Peter Vozsi, at (858) 551-3053 or peter.jozsi@gensetlj.com, for more information or help finding a team. Information is also available from the American Cancer Society office, (619) 682-7423 or (800) ACS-2345, or its web site, www.cancer.org.

Got Benefits Forms?
Benefits Administration would like to remind employees that they can pick up benefits forms and packets—such as MES claim forms, Tuition Reimbursement forms, and CCN and Delta directories—from the rack conveniently located in the main lobby of the Administrative Offices Building, 3301 North Torrey Pines Court.

Fresh Art Served Up in Cafeteria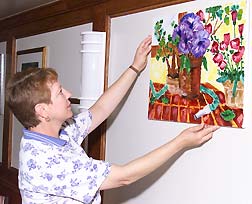 New paintings and photographs by TSRI employees are now on display in the TSRI cafeteria. Here, Administrative Assistant Valerie Moreau, who coordinates the cafeteria art shows, holds a painting by Housekeeper Danny Dunn. The other artists participating in the show are: Research Technician Daniel Schweissinger, Science Writer Jason Bardi, Assistant Professor David Goodsell, Image Technician Tom Gatz, Director of Biomedical Graphics Bob Turner, and Systems Administrator Brian Sheehan.