In Brief

Symposium to Honor Professor K. Barry Sharpless
A symposium on Friday, February 16 will honor Professor K. Barry Sharpless on the occasion of his 60th birthday. The event will feature:

"Introduction" by Professor K.C. Nicolaou, TSRI,;
"The Vancomycin Family of Antibiotics: How Does Nature Assemble Them?" by Professor Christopher T. Walsh, Harvard Medical School (chairperson: Assistant Professor Floyd Romesberg, TSRI);
"Asymmetric Catalysis of Metallosalen Complexes" by Professor Tsutomu Katsuki, Kyushu University, Japan (chairperson: Assistant Professor Erik Sorensen, TSRI);
"Functional Synthetic Analogues of Cytochrome C Oxidase" by Professor James P. Collman, Stanford University (chairperson: Associate Professor M.G. Finn, TSRI);
"Stitching with Nitrogen" by Professor K. Barry Sharpless, TSRI, (chairperson: Associate Professor M.G. Finn, TSRI).
The event will be held in the Valerie Timpken Amphitheater in the Green Hospital Building, 10666 N. Torrey Pines Road. A reception will follow in The Arnold & Mabel Beckman Center Atrium. No registration is required.

Sharpless Wins Benjamin Franklin Medal in Chemistry
The Scripps Research Institute (TSRI) Professor K. Barry Sharpless has won the 2001 Benjamin Franklin Medal in Chemistry from The Franklin Institute. Sharpless was cited by the institute for "innovative contributions to the development of broadly useful and commercially viable catalytic oxidation chemistry for the selective production of bioactive molecules with the proper right or left 'handedness' which allows for the manufacture of safer and more effective drugs and agricultural chemicals."
Winners of this year's awards from The Franklin Institute, which has recognized breakthroughs in science and technology since 1824, will be honored at a ceremony in April hosted by ABC News Anchor Cokie Roberts.

Professor Neil Cooper Retires
Neil R. Cooper recently retired from TSRI after more than 34 years at the institute. He arrived in 1966 as research associate in the Department of Experimental Pathology and retired in December, a full professor in the Department of Immunology, where he is now an emeritus professor.
A graduate of Yale University and Yale Medical School, Cooper was an investigator in microbiology for the Howard Hughes Medical Institute at the University of Miami and a captain with the United States Army Reserves at Walter Reed Army Institute of Research in Washington, D.C., before coming to TSRI.
Cooper is a member of several professional organizations and the recipient of numerous awards and honors in his field. In addition to serving on many advisory committees during his career at TSRI, Cooper had a vigorous program of research, including, most recently, investigating the role of inflammatory processes in Alzheimer's disease and B-cell apoptosis triggered by antigen receptor ligation.

TSRI Board Member Named Director of the Year
TSRI Board Member Charles C. Edwards, president and CEO of Scripps Institutions of Medicine and Science, has been named Director of the Year for Lifetime Achievement in Corporate Governance by the Corporate Directors Forum. According to Larry Stambaugh, chairman of the board of the Corporate Directors Forum, the award is bestowed on individuals with "the highest standards of corporate governance and leadership." In addition to overseeing the merger of Scripps facilities, Edwards, a Mayo Clinic-trained surgeon, has been a director of several corporations and has served as assistant secretary for health in the US Department of Health, Education, and Welfare and commissioner of the Food and Drug Administration.

TSRI High School Scholar Wins Scholarship from BioCom
Ruggero Carloz, who participated in TSRI's High School Student Summer Research Apprenticeship Program, has been awarded a scholarship from BIOCOM/San Diego, a regional association for biotechnology, medical device, and bio-agriculture companies. Carloz interned in the lab of Professor Charles Shevlin during the summer of 1998. After graduating from Hoover High in 1999, he enrolled in San Diego City College with plans to transfer to the University of California, San Diego after two years. Of 109 applicants, Carloz was one of five chosen to receive a scholarship.

Toastmasters Officers Inaugurate New Term
New officers have been elected to the SOS (Scripps Outstanding Speakers) Toastmasters group for the term beginning January 2001. They are: Valerie Moreau, president; Astrid Visser, vice president, education; Kazu Kato, vice president, public relations; Michelle Roberts, vice president, membership; Dave Tabb, secretary; Rene Salazar, treasurer; Kathy Sterling and Vijay Reddy, co-sergeant-of-arms. Binaya Panda is the immediate past president. Those interested in improving their speaking, interview, and leadership skills can contact any officer listed above or visit the Toastmasters website, http://www.scripps.edu/services/toastmasters/index.html, for meeting times.

Reception for Alice Torres
There will be a reception in the Finance Department, 3301 Torrey Pines Court, for all who would like to say goodbye to Accounts Payable Support Alice Torres, who will be retiring this week after 20 years of service. The reception will be held on Friday, February 9, from 1 to 3 PM. Cake, punch, and coffee will be served.
Ketta Wheeler, Accounts Payable supervisor, comments, "Although we will miss Alice, we wish her many wonderful years of retirement. Can't we all imagine sleeping in, no traffic hassles, no vendor calls, no stress, and more time with the grandchildren." Contact Wheeler, x4-8083, for more information.

Workshop on Women and Finances
Benefits Administration is pleased to present a lunchtime workshop "Women and Finances" on Monday, February 12 from noon to 1 PM in the W.M. Keck Foundation Amphitheater, Beckman Center for Chemical Sciences.
This presentation looks at retirement planning from a woman's perspective. Topics include the importance of investing, why women have different needs and investment styles than their male counterparts, and what every woman—young or old—should know in order to make decisions that affect her financial security. No advance registration is required.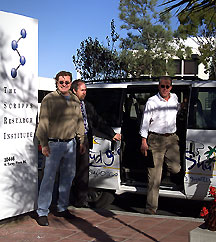 Telecommunications Database Manager Paul Savoie (left) and Director of Telecommunications Thomas Thistle (right) try out the campus shuttle during its first week of operation. The Cloud 9 Shuttle driver graciously holds the door. For more information on the new shuttle's route and hours of operation, go to the shuttle web page, http://www.scripps.edu/services/shuttle/.