In Memoriam: Ralph A. Reisfeld, PhD (1926-2020)
February 17, 2021
---
LA JOLLA, CA—Ralph Reisfeld, PhD, a longtime senior scientist at Scripps Research and pioneer in the fields of immunology and cancer, passed away at his La Jolla home on December 6, 2020. He was 94.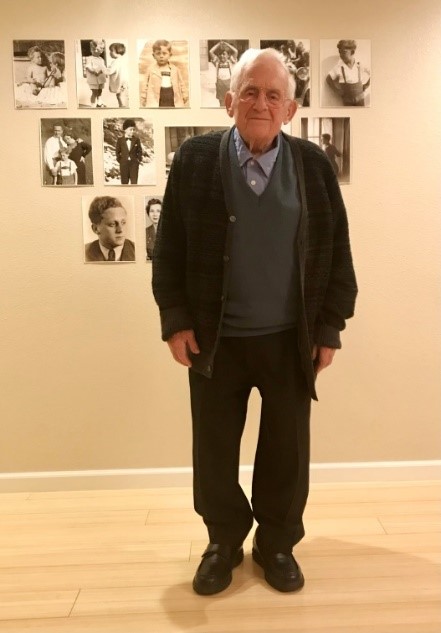 "We are gravely saddened to learn of the passing of Dr. Reisfeld, a distinguished professor in our department," said Argyrios Theofilopoulos, MD, professor emeritus in the Department of Immunology and Microbiology. "Dr. Reisfeld was a wonderful and collegial individual with profound kindness and a most pleasant demeanor. Many of us had the pleasure of knowing him, collaborating with him and publishing several studies together."
Ralph Alfred Reisfeld was born April 23, 1926 in Stuttgart, Germany. Unlike the majority of his family, he and his parents managed to escape persecution by the National Socialists in 1938 (literally two days before their family home was invaded) and took refuge in Switzerland. After completing high school, Reisfeld obtained sponsorship for immigration to America in 1946, and began his new life learning English and working on a dairy farm in New Hampshire.
As an undergraduate at Rutgers University in New Jersey, Reisfeld arranged to meet Albert Einstein. It was discussions with the noted theoretical physicist that inspired Reisfeld to pursue science instead of studying history.
Reisfeld earned his doctorate from The Ohio State University in 1957. Following postdoctoral studies at the National Cancer Institute, he joined Merck & Co. in 1959 as a senior chemist. During this period, he pioneered the characterization of pituitary hormones, such as human chorionic gonadotropin (hCG), which is critical for pregnancy and development.
After experiencing some of the constraints of industry, Reisfeld returned to basic research, landing a position at the National Institutes of Health, where he ultimately became the assistant chief of the Laboratory of Immunology at the National Institute of Allergy and Infectious Diseases. He joined Scripps Research in 1970 as a professor of Immunology and Microbial Science. As a new faculty member, he made pivotal discoveries of the elements of the immune system that enable the discernment of self versus attacker.
Between 1974 and 1977, Reisfeld trained James P. Allison, PhD, and collaborated with him on the mechanisms of tumor recognition by the immune system. Allison went on to develop principles of checkpoint inhibitors as a means to treat cancer, for which Allison was a co-recipient of the 2018 Nobel Prize in Physiology or Medicine. "This concept revolutionized our approach to tumor immunotherapy and it has gone on to benefit countless individuals," said Dennis Burton, PhD, a professor in the Department of Immunology and Microbiology at Scripps Research.
Reisfeld's innovative methods extended further to the study of melanoma, neuroblastoma and other cancers, using reengineered antibodies to target tumors for destruction. In a project first developed by David Cheresh, PhD, a UC San Diego pathology professor and former trainee, Reisfeld and colleagues designed antibodies that were ultimately formulated into the drug Unituxin™ (dinutuximab), a monoclonal antibody treatment for high-risk cases of pediatric neuroblastoma. "It was Ralph that instilled in me the idea that, while basic scientific discovery is valuable, being able to translate your science into something with real human impact is even more satisfying," said Cheresh.
In addition to more than 370 published papers, some among the most cited publications, Reisfeld authored several notable books on immune cell recognition, antibodies and cancer. He received two 7-year Outstanding Investigator Awards from the National Cancer Institute and was an active member of numerous professional societies and editorial boards, including the American Association for Cancer Research (AACR), Cancer Research and Clinical Cancer Research.
Of his scientific career that spanned more than 50 years, Reisfeld was most proud of the mentorship he provided to nearly 100 student and postdoctoral researchers, many of whom became highly regarded in their respective fields. "His devotion to the people in his lab was one of his most endearing traits," said Francis Chisari, MD, professor emeritus in the Department of Immunology and Microbiology. "He had an outspoken pride in their successes and took great delight in the discoveries and the achievements of all his colleagues in the institute." Reisfeld continued actively mentoring even as professor emeritus following his retirement in 2012.
"Dr. Reisfeld was hugely appreciated and he contributed greatly to contemporary aspects of tumor biology and treatment," said Theofilopoulos. "We will mourn his loss, but his memory and accomplishments will stay with us for many years to come." said Burton.
Reisfeld's wife of 57 years, Louise (Gladys), predeceased him in 2013. He is survived by son Daniel, daughter Deborah, and grandchildren Andrew and Lauren.
---
For more information, contact press@scripps.edu See More News