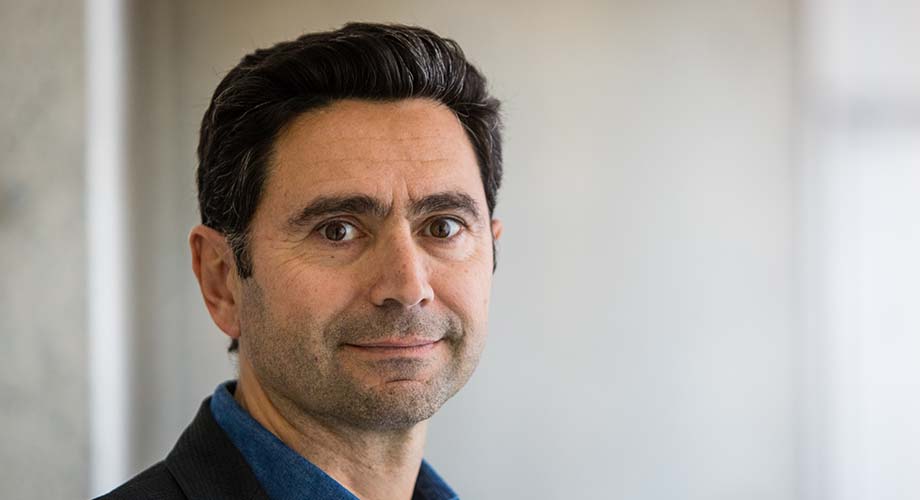 Scripps Research neurobiologist Ardem Patapoutian elected to American Academy of Arts and Sciences
Patapoutian discovered proteins that help our bodies sense touch, pain and blood pressure.
April 30, 2020
---
LA JOLLA, CA—The American Academy of Arts and Sciences, one of the world's most prestigious honor societies, has named Scripps Research molecular biologist Ardem Patapoutian, PhD, as an elected member of its 2020 class.
Patapoutian, a professor in Scripps Research's Department of Neuroscience, has catapulted the scientific understanding of sensory transduction—the methods by which the body responds to sensory input from the eyes, tongue, nose and skin.
Notably, Patapoutian discovered pressure-sensitive proteins, known as PIEZO1 and PIEZO2, that enable the sense of touch and underlie the function of many other tissues and cell types. This key discovery a decade ago set off a cascade of additional findings that continue to shed light on how to treat a variety of diseases, from malaria and heart failure to chronic pain.
Members of the American Academy of Arts and Sciences represent today's innovative thinkers in nearly every field and profession, including more than 250 Nobel and Pulitzer Prize winners. The society, which also functions as an independent research center, emphasizes the need for interdisciplinary study that draws on expertise from many fields of research and professional practice to address significant challenges.
"The American Academy of Arts and Sciences carries a long history of working across disciplines to advance the common good," says James Williamson, PhD, executive vice president of research and academic affairs at Scripps Research. "Ardem's election to the Academy is special distinction recognized well beyond our scientific circles. Scripps Research is exceptionally proud of how Ardem and his lab are expanding the boundaries of knowledge to improve health and medicine."
In addition to his work at Scripps Research, Patapoutian serves as an investigator at the Howard Hughes Medical Institute.
"We are proud, but not a bit surprised, that Ardem is being recognized with this prestigious honor," says Hollis Cline, PhD, chair of the Neuroscience Department at Scripps Research, La Jolla. "Ardem has made extraordinary contributions to science, with foundational discoveries that already have opened the door to new approaches for solving diseases."    
Patapoutian, who was born in Lebanon, immigrated to the United States in 1986 and became a U.S. citizen. He earned his doctorate in biology from the California Institute of Technology in 1996 and joined the Scripps Research faculty in 2000 after completing a postdoctoral fellowship at University of California, San Francisco. In 2016, he was named a fellow of the American Association for the Advancement of Science, and in 2017, was named to the National Academy of Sciences, among many other honors and awards spanning two decades.
He joins 21 other Scripps Research faculty who have been named as members to the American Academy of Arts and Sciences.
"The members of the class of 2020 have excelled in laboratories and lecture halls, they have amazed on concert stages and in surgical suites, and they have led in board rooms and courtrooms," says Academy President David W. Oxtoby. "These new members are united by a place in history and by an opportunity to shape the future through the Academy's work to advance the public good."
Based in Cambridge, Massachusetts, the Academy has elected more than 13,500 members since its founding in 1780 by John Adams, John Hancock and others who believed the new republic should honor exceptionally accomplished individuals and engage them in advancing the public good. The Academy's dual mission remains essentially the same 239 years later with honorees from increasingly diverse fields and with the work focused on the arts, democracy, education, global affairs and science.
The new class will be inducted at a ceremony in October 2020 in Cambridge, Massachusetts, and join the company of Academy members elected before them, including Benjamin Franklin, Alexander Hamilton, Ralph Waldo Emerson, Maria Mitchell, Charles Darwin, Albert Einstein, Robert Frost, Margaret Mead, Milton Friedman and Martin Luther King, Jr.
---
For more information, contact press@scripps.edu See More News