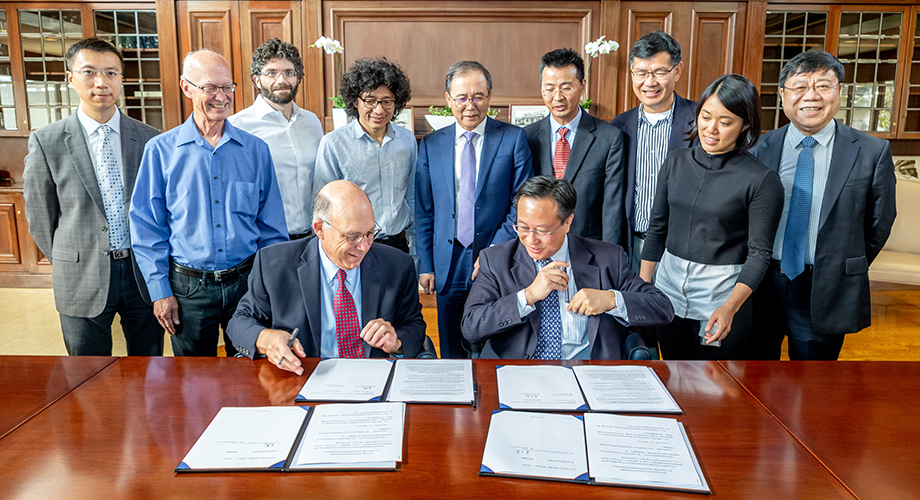 Scripps Research and Shenzhen Bay Laboratory announce international chemical biology research collaboration
November 27, 2019
---
LA JOLLA, CA – Scripps Research and Shenzhen Bay Laboratory (SZBL) today announced a trans-Pacific chemical biology research collaboration that combines the expertise of both institutions to accelerate the pace of discovery in one of the most promising areas of science.
The partnership establishes the Scripps Research Shenzhen Bay Laboratory Chemical Biology Institute to pursue basic and translational research at the intersection of biology and chemistry. The research partnership will be based at SZBL, a nonprofit, academic health sciences laboratory established by Peking University Shenzhen Graduate School and the City of Shenzhen.
"We are delighted to partner with Shenzhen Bay Laboratory and Peking University to advance our understanding of complex biological systems at the molecular level and address unmet medical needs around the world," says Peter Schultz, PhD, president and CEO of Scripps Research. "Scripps Research, Shenzhen Bay Laboratory and Peking University share a commitment to scientific excellence and serving the global public health needs."
The initiative will focus on areas of chemical biology research where both Scripps Research and SZBL bring complementary expertise to the partnership. Several Scripps Research chemical biology faculty will establish joint laboratories at Shenzhen Bay Laboratory with research areas including synthetic chemistry, natural products, glycobiology, chemical genetics, proteomics and other critical areas of chemical biology.
"The formation of this partnership between Scripps Research and SZBL establishes an unparalleled opportunity to progress the field of chemical biology through a joint nonprofit, academic collaboration," says Jianhua Lin, the Special Advisor of the SZBL, "Working together we have great potential to generate advances of tremendous importance to science and medicine."
In addition to foundational research in chemistry and biology, the partnership will pursue translational studies in cancer, metabolic and liver disorders, and inflammatory and neurodegenerative diseases. Scripps Research's drug discovery division Calibr will provide operational guidance to help accelerate the translation of the institute's findings into drug discovery programs.
---
About Scripps Research
Scripps Research, with campuses in La Jolla, California, and Jupiter, Florida, is ranked the most influential institution in the world for its impact on innovation. A nonprofit organization, Scripps Research expands basic knowledge in the biosciences and uses these fundamental advancements to develop profound innovations that improve human health. Scripps Research's scientists lead breakthrough studies that address the world's most pressing medical concerns, accelerating the creation and delivery of medical breakthroughs to enhance health around the globe. Scientists in the institute's five academic research departments work hand-in-hand with researchers at Calibr, its drug discovery division, with a mission to expand the frontiers of human knowledge and accelerate the development of new medicines to improve lives around the planet.
About Shenzhen Bay Laboratory
Shenzhen Bay Laboratory (SZBL) is a recently established Guangdong Provincial Laboratory located in the heart of China's Guangdong-Hong Kong-Macau Greater Bay area. SZBL strives to become a hub for world-class research at the forefront of health science and innovation, spurring novel solutions to the grand issues challenging mankind. Areas of research include bioinformatics, biomedical engineering and the discovery of innovative drugs with the goal of prevention, early diagnose and treatment of major diseases including but not limited to cancer, metabolic and cardiovascular diseases, neurodegenerative disorders, and infectious diseases.
---
For more information, contact press@scripps.edu See More News