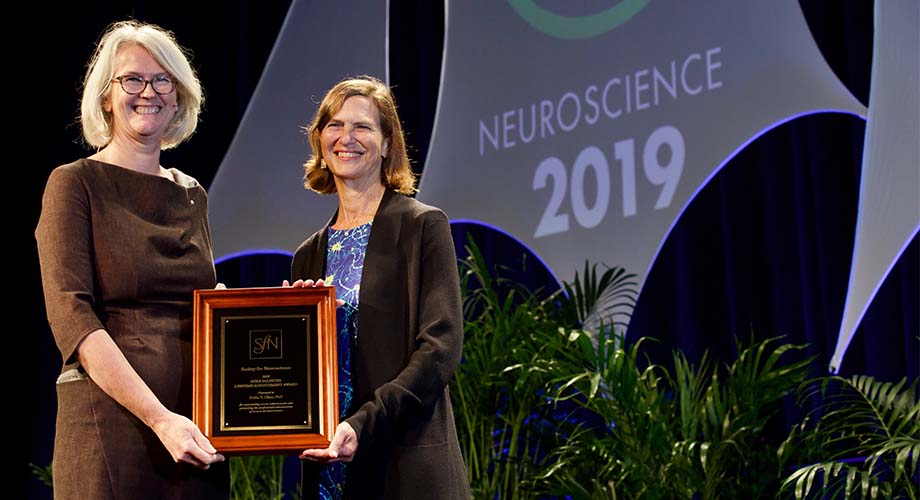 Society for Neuroscience presents Hollis Cline with lifetime achievement award for exemplary career and mentorship
Cline is honored as an inspiring scientific role model, having trained more than 40 graduate students and postdoctoral scientists in her lab—over half of whom are women.
October 22, 2019
---
LA JOLLA, CA – During a ceremony at the Neuroscience 2019 conference in Chicago, Hollis Cline, PhD, chair of the Department of Neuroscience at Scripps Research, La Jolla, was presented with the Mika Salpeter Lifetime Achievement Award. The honor, bestowed by the Society for Neuroscience, recognizes highly accomplished neuroscientists who have significantly promoted the professional advancement of women in the field.
Diane Lipscombe, PhD, president of the Society for Neuroscience, noted that Cline is among "outstanding neuroscientists with exemplary careers who have also devoted themselves to the professional development of women through generous and thoughtful mentorship." 
The award includes a $5,000 prize and complimentary registration and travel to the Society of Neuroscience's annual meeting.
"I am honored to receive an award that focuses on both scientific achievements and on the other critical work that also takes place in a lab to help women forge long and successful career paths in research," Cline says.
In a statement, the Society for Neuroscience said Cline has made fundamental contributions to our understanding of how sensory experience affects the development of brain structure and function: "Her seminal work on cellular interactions in the retina and brain of the frog have enabled unprecedented examination of individual neurons and their axonal and dendritic dynamics over time. By combining molecular and genetic techniques with quantitative observations of structural and functional plasticity, Cline's work has revealed how activity-dependent brain plasticity is implemented at the cellular level."
Cline's contributions to science go beyond her exceptional research.
She has served as a council member for the National Eye Institute and the National Institute of Neurological Disorders and Stroke and participated on the Blue Ribbon Panel for the National Institute of Child Health and Human Development. Cline served as president of the Society for Neuroscience in 2016.
"She is an inspiring scientific role model, having trained over 40 graduate students and postdoctoral scientists in her lab, over half of which have been women, and many more undergraduates and research assistants," the Society of Neuroscience said in an announcement. "She takes an active role in helping trainees achieve their career goals and devotes one-on-one time to all mentees in her lab, from postdocs to graduate students to technicians to undergraduate and high school interns."
The Society for Neuroscience is an organization of nearly 36,000 basic scientists and clinicians who study the brain and the nervous system. The society's annual meeting, Neuroscience, is world's largest source of emerging news about brain science and health. Neuroscience 2019 takes place Oct. 19-23 in Chicago. 
---
For more information, contact press@scripps.edu See More News