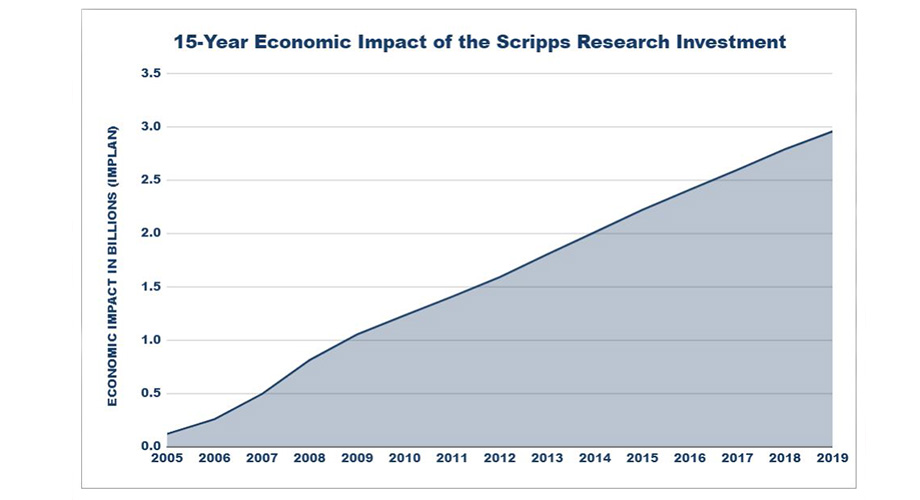 New study reveals Scripps Research, Florida has produced $3 billion worth of economic impact since 2004
September 30, 2019
---
JUPITER, FL — The launch of the Florida campus of Scripps Research has produced an economic impact of $3 billion since the nonprofit biomedical institute opened an East Coast branch 15 years ago, Scripps Research Executive Vice President Douglas A. Bingham announced Monday.
Bingham said total impacts from the Scripps Research expansion to Florida have been substantial. Florida scientists have contributed to promising scientific and medical advances in areas of great medical need, including cancer, muscular dystrophy, ALS, Parkinson's, addiction and multiple sclerosis. Further, Scripps Research scientists have made fundamental discoveries that have advanced humanity's understanding of the brain, including learning, memory, and neurodegenerative diseases including Alzheimer's. 
"Cumulatively since 2004, every dollar invested in Scripps Florida has returned $6. Beyond that, our presence has seeded and attracted other local life science research and development companies," Bingham said. "Expansion Therapeutics, Excovery and Beacon Pharmaceuticals, not to mention the Max Planck Florida Institute for Neuroscience, exist in Palm Beach County because of its initial investment in Scripps Research."
The industry standard IMPLAN (Economic Impact Analysis for Planning) model was used for the economic impact study. It relied upon expenditures by the Florida campus as its input. The $3 billion figure represents a fairly conservative multiplier of 2.42, said San Diego-based academic research institute consultant Cary Thomas, MBA/CMA, who performed the analysis. More than $1.2 billion has been directly spent by the Florida institute through the 15-year period, Thomas said.
The IMPLAN model considers direct spending on wages, services and supplies, and then calculates indirect spending by businesses in the company's supply chain, and induced spending by workers on items such as real estate, meals, taxes, insurance and other items. 
"We know the full impact is even greater than the IMPLAN study shows," Thomas said. "There are technology advances and spin-off companies, and the impact of those developments were not included in the study of Scripps Florida's economic impact."
Scripps Research spinoff company Expansion Therapeutics, for example, raised $60 million to develop innovative therapies for conditions including ALS and muscular dystrophy in 2017 and 2018, spending not reflected in the study.
Another spinoff, Xcovery, now based in Palm Beach Gardens, developed an anti-cancer compound, Ensartinib, which is being investigated for the treatment of ALK-positive non-small cell lung cancer. It recently completed enrollment for phase 3 clinical trials. That impact is likewise not included in the study. Founder Chris Liang, PhD, was one of the first scientists recruited to Scripps Research's Florida campus in 2004.
Marking Scripps Research's 15th anniversary in Florida, in addition to the IMPLAN economic analysis study, Scripps Research looked back at the intellectual property created from its discoveries. That analysis reveals a total of 162 clusters of patent applications have been filed on technology developed at the Jupiter campus, with each cluster containing 1-6 separate patent applications.
Bingham noted that Palm Beach County students at many levels have benefitted from the institute's presence, a value likewise not reflected in the economic impact analysis.
"Our undergraduate internship program has enabled more than 300 Florida Atlantic University Honors College STEM majors to conduct their theses work and gain valuable lab experience." Bingham said. "Our Kenan Fellows internship program has enabled 177 Palm Beach County high school students and 24 science educators to gain lab experience alongside our scientists, as well. The impact of that experience on the lives of those participants really cannot be measured."
---
For more information, contact press@scripps.edu See More News