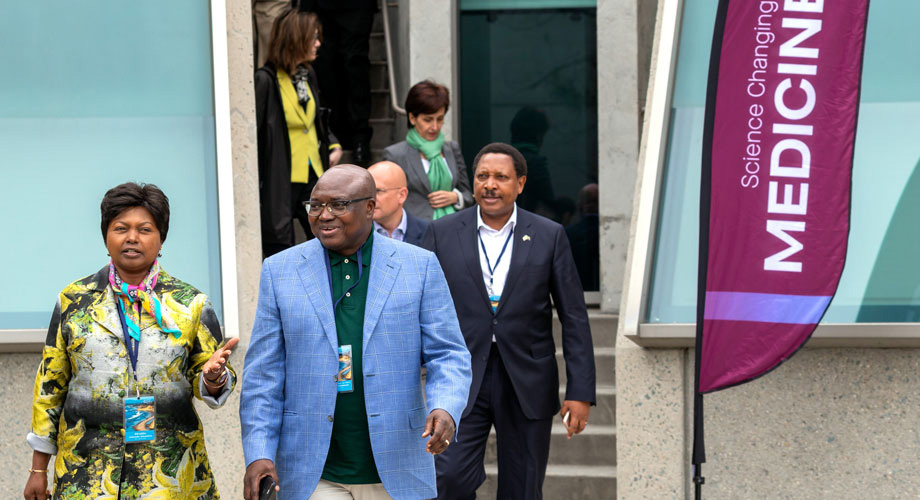 Ambassadors from more than 35 countries visit Scripps Research on State Department tour
June 18, 2019
---
La Jolla, CA — More than 35 ambassadors representing countries across four continents toured Scripps Research June 17 to learn more about San Diego's biomedical research sector as part of the U.S. State Department-sponsored visit.
The diplomats, representing countries from Albania to Uzbekistan, heard from Scripps Research scientists who are developing new medicines and international partnerships to improve lives around the world, in some cases directly altering medical care and disease prevention in the countries from which the ambassadors hail. 
Faculty also briefed the visiting dignitaries on the education of the next generation of scientific leaders and collaborative efforts to expand the frontier of human knowledge, which have resulted in lifesaving treatments and more than 80-plus spin off companies by Scripps Research scientists.
The ambassadors toured Scripps Research's state-of-the-art scientific facilities, including the cryo-electron microscopy facility and the Skaggs Graduate School of Chemical and Biological Sciences, the institute's top 10 ranked graduate program.
The visit introduced the ambassadors to San Diego's thriving biotech community, one of the most productive and innovative in the nation. The Scripps Research tour was part of a three-day visit to San Diego, organized by the State Department, called Experience America. 
During their stay, the diplomats heard how research, technology and entrepreneurship has transformed the region and powers innovation that change and improve individuals, countries and societies. 
The visit was intended to build relationships between the ambassadors and San Diego's biotech companies, nonprofit and academic institutes, and leaders, and in the process, open doors for local organizations eager to develop global partnerships and investment possibilities.
---
For more information, contact press@scripps.edu See More News