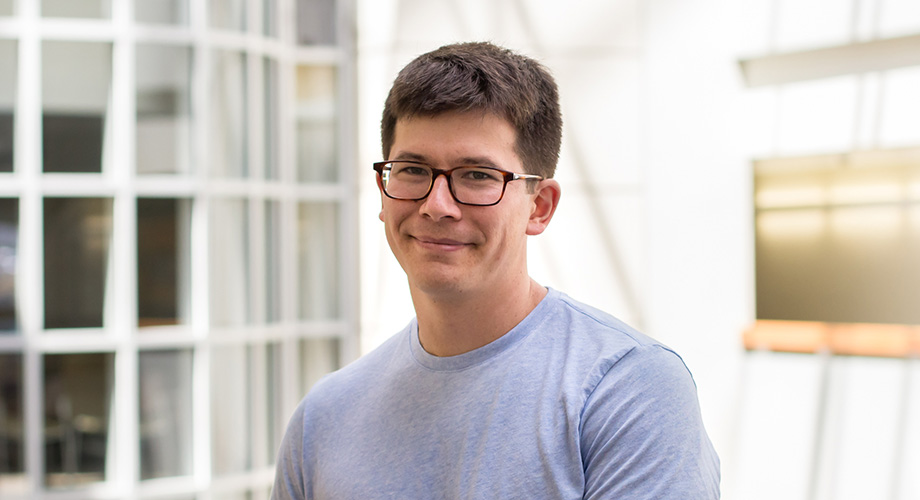 Keary Engle receives Bristol-Myers Squibb award
Chemist Keary Engle, PhD, an assistant professor at Scripps Research, has been awarded the 2018 Bristol-Myers Squibb Unrestricted Grant in Synthetic Organic Chemistry. The $75,000 in award funding will support Engle's work to invent new tools to make new drug candidates quickly, efficiently and sustainably.
July 11, 2018
---
"It's a massive honor for our team to be selected from this award," says Engle. "I'm very fortunate to work with a talented, motivated, and creative team of students and postdocs, and we will use this recognition as motivation to keep working with tireless passion on important problems."
Engle, who earned his PhD in the Scripps Research Skaggs-Oxford Program, started his lab three years ago. Since then, Engle has published 22 independent papers, establishing a firm foundation of results that validate some of the lab's key hypotheses.
"We are excited to push our research to the next level to make it truly useful to end-users in academia and industry," Engle says. "One of the most exciting aspects of this award is that it is unrestricted, meaning that we can use the funding to support new high-risk/high-reward research directions."
Bristol-Myers Squibb has instituted a unique program of unrestricted grants, graduate fellowships, and awards to fund and recognize excellence in academic research in synthetic organic chemistry. Started in 1998, the program has just celebrated its 20th year of providing two types of awards, the Bristol-Myers Squibb Unrestricted Grants in Synthetic Organic Chemistry and the Bristol-Myers Squibb Graduate Fellowship Program in Synthetic Organic Chemistry, which provides research funding for promising senior graduate students. Through this awards program, Bristol-Myers Squibb has formed a partnership with the academic community to ensure that synthetic organic chemistry research remains vibrant and productive as synthetic organic chemistry is the training ground for both the medicinal and process chemists who play a pivotal role in the discovery and development of new pharmaceutical agents.
---
For more information, contact press@scripps.edu See More News