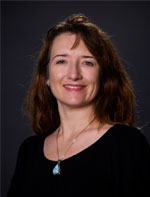 Scripps Research Scientist Wins Prestigious John J. Abel Award in Pharmacology
Laura Bohn, an associate professor in the Departments of Molecular Therapeutics and Neuroscience on the Florida campus of The Scripps Research Institute, has been awarded the prestigious John J. Abel Award for 2011.
---
---
JUPITER, FL, April 11, 2011 – Laura Bohn, an associate professor in the Departments of Molecular Therapeutics and Neuroscience on the Florida campus of The Scripps Research Institute, has been awarded the prestigious John J. Abel Award for 2011.
The award, which is named after the founder of the American Society for Pharmacology and Experimental Therapeutics (ASPET), is given each year to a single outstanding young investigator for his or her contributions to pharmacology.
Bohn received the award on April 9, 2011, at the annual meeting of ASPET in Washington, DC. "I'm deeply honored to receive this award," she said. "To be associated with John Abel's work and his legacy is tremendously gratifying."
The John J. Abel Award, sponsored by Pfizer, was established in 1947 to stimulate fundamental research in pharmacology and experimental therapeutics by young investigators. It honors outstanding research in the field, especially work demonstrating originality of approach, clarity, and excellence of data presentation.
Considered the father of modern pharmacology, Abel established the first pharmacology department at the University of Michigan in 1891, and later became department chair at Johns Hopkins University. While at Hopkins, he created the Journal of Pharmacology and Experimental Therapeutics, which published its first issue in June 1909.
Outstanding Work with Protein Receptors
This year's award recognizes Bohn's research into the regulation of G protein-coupled receptor signaling and how it relates to drug responsiveness. G protein-coupled receptors (GPCR) represent a large family of transmembrane receptors, which transmit signals into a cell's interior.
Bohn's work has long focused on how this regulation affects overall drug responsiveness in living systems, particularly during opioid receptor signaling, which plays a prominent role in pain perception. Determining how receptors such as the mu opioid receptor, the primary target of morphine, are regulated could provide insights into pain control, opiate tolerance, and addiction.
Bohn's interest in opioid receptors first took root during her postdoctoral studies at Duke University. Since then, she has pursued the molecular regulation of these receptors, hoping to improve and refine drug responsiveness – in other words, to gain better pain control and limit the side effects associated with these drugs.
Bohn received undergraduate degrees in Biochemistry and Chemistry from Virginia Tech, and a Ph.D. from St. Louis University School of Medicine. She completed postdoctoral training at Duke University Medical Center. After Duke, she accepted a position at the Ohio State University College of Medicine in the Department of Pharmacology. In 2009, she accepted a tenured associate professor position at Scripps Research in the Department of Molecular Therapeutics.
In addition to her scientific work with Scripps Research, Bohn is active in community outreach, and serves as mentor in the Kenan Scholars program that provides laboratory experience to high school and undergraduate students in Palm Beach County, Florida.
About The Scripps Research Institute
The Scripps Research Institute is one of the world's largest independent, non-profit biomedical research organizations. Scripps Research is internationally recognized for its discoveries in immunology, molecular and cellular biology, chemistry, neuroscience, and vaccine development, as well as for its insights into autoimmune, cardiovascular, and infectious disease. Headquartered in La Jolla, California, the institute also includes a campus in Jupiter, Florida, where scientists focus on drug discovery and technology development in addition to basic biomedical science. Scripps Research currently employs about 3,000 scientists, staff, postdoctoral fellows, and graduate students on its two campuses. The institute's graduate program, which awards Ph.D. degrees in biology and chemistry, is ranked among the top ten such programs in the nation. For more information, see www.scripps.edu.
---
For more information, contact press@scripps.edu See More News