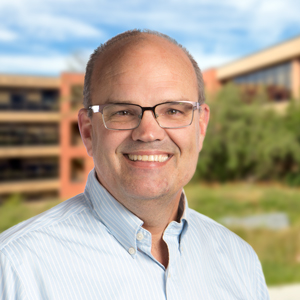 Steven Steinhubl, MD
Email
---
Other Joint Appointments
The Alaska Native Tribal Health Consortium
---
Research Focus
The Digital Medicine research team is centered on the design, development and management of clinical programs built specifically around the novel capabilities of a wide range of digital technologies, including wearable sensors, machine learning and big data analytics, and personalized communications. Much of this work focuses on pragmatic comparative efficacy trials to identify the impact of real-world implementation. In addition, they are currently leading the direct volunteer, technology and digital engagement components of the All of Us Precision Medicine Research Program that will include at least one million individuals across the nation.
---
Education
M.D., Cleveland Clinic, 1998
M.D., David Grant USAF Medical Center, 1991
M.D., Saint Louis University, School of Medicine, 1988
B.S. (Chemical Engineering), Purdue University, 1988
M.Sc. (Physiology, Pathology and Related Sciences), Georgetown University, 1984
---
Professional Experience
2016-2017 Associate Professor of Genomic Medicine, Molecular and Experimental Medicine (MEM), Scripps Research
2013-2016 Professional Scientific Collaborator, Molecular and Experimental Medicine (MEM), Scripps Research
---
Selected References
Jaiswal SJ, Topol EJ, Steinhubl SR. Digitising the way to better sleep health.Lancet. 2019 Feb 16;393(10172):639. doi: 10.1016/ S0140-6736(19)30240-5. Epub 2019 Feb 14. PubMed PMID: 30782334.
Baca-Motes K, Edwards AM, Waalen J, Edmonds S, Mehta RR, Ariniello L, Ebner GS, Talantov D, Fastenau JM, Carter CT, Sarich TC, Felicione E, Topol EJ, Steinhubl SR. Digital recruitment and enrollment in a remote nationwide trial of screening for undiagnosed atrial fibrillation: Lessons from the randomized, controlled mSToPS trial. Contemp Clin Trials Commun. 2019 Jan 7;14:100318. doi: 10.1016/j.conctc.2019.100318. eCollection 2019 Jun. PubMed PMID: 30656241; PubMed Central PMCID: PMC6329362.
Steinhubl SR, Waalen J, Edwards AM, Ariniello LM, Mehta RR, Ebner GS, Carter C, Baca-Motes K, Felicione E, Sarich T, Topol EJ. Effect of a Home- Based Wearable Continuous ECG Monitoring Patch on Detection of Undiagnosed Atrial Fibrillation: The mSToPS Randomized Clinical Trial. JAMA. 2018 Jul 10;320(2): 146-155. doi:10.1001/jama.2018.8102. PubMed PMID: 29998336.

Quer G, Nikzad N, Chieh A, Normand A, Vegreville M, Topol EJ, Steinhubl SR. Home Monitoring of Blood Pressure: Short-Term Changes During Serial Measurements for 56398 Subjects. IEEE J Biomed Health Inform. 2018 Sep;22(5): 1691-1698. doi: 10.1109/JBHI.2017.2776946. Epub 2017 Nov 23. PubMed PMID: 29989995; PubMed Central PMCID: PMC6053341.
Modena BD, Bellahsen O, Nikzad N, Chieh A, Parikh N, Dufek DM, Ebner G, Topol EJ, Steinhubl S. Advanced and Accurate Mobile Health Tracking Devices Record New Cardiac Vital Signs. Hypertension. 2018 Aug;72(2):503-510. doi:10.1161/HYPERTENSIONAHA.118.11177. Epub 2018 Jul 2. Erratum in: Hypertension. 2018 Sep;72(3):e36. PubMed PMID: 29967036; PubMed Central PMCID: PMC6044460.
Radin JM, Neems D, Goglia R, Siddiqui K, Steinhubl SR. Inverse correlation between daily outdoor temperature and blood pressure in six US cities. Blood Press Monit. 2018 Jun;23(3):148-152. doi: 10.1097/MBP. 0000000000000322. PubMed PMID: 29677012; PubMed Central PMCID: PMC5932111.

Sharma A, Harrington RA, McClellan MB, Turakhia MP, Eapen ZJ, Steinhubl S, Mault JR, Majmudar MD, Roessig L, Chandross KJ, Green EM, Patel B, Hamer A, Olgin J, Rumsfeld JS, Roe MT, Peterson ED. Using Digital Health Technology to Better Generate Evidence and Deliver Evidence-Based Care. J Am Coll Cardiol. 2018 Jun 12;71(23):2680-2690. doi: 10.1016/j.jacc.2018.03.523. Review. PubMed PMID: 29880129.
Kim KI, Nikzad N, Quer G, Wineinger NE, Vegreville M, Normand A, Schmidt N, Topol EJ, Steinhubl S. Real World Home Blood Pressure Variability in Over 56,000 Individuals With Nearly 17 Million Measurements. Am J Hypertens. 2018 Apr 13;31(5):566-573. doi: 10.1093/ajh/hpx221. PubMed PMID: 29365036; PubMed Central PMCID: PMC5905665.
Steinhubl SR, McGovern P, Dylan J, Topol EJ. The digitised clinical trial. Lancet. 2017 Nov 11;390(10108):2135. doi: 10.1016/ S0140-6736(17)32741-1. Epub 2017 Nov 9. PubMed PMID: 29143747.

Steinhubl SR, Feye D, Levine AC, Conkright C, Wegerich SW, Conkright G. Validation of a portable, deployable system for continuous vital sign monitoring using a multiparametric wearable sensor and personalised analytics in an Ebola treatment centre. BMJ Glob Health. 2016 Jul 5;1(1):e000070. doi: 10.1136/bmjgh-2016-000070. eCollection 2016. PubMed PMID: 28588930; PubMedCentral PMCID: PMC5321315.