Source: Interfolio F180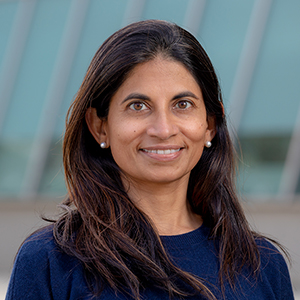 Supriya Srinivasan
Email
---
Scripps Research Joint Appointments
---
Research Focus
Laboratory of Molecular Physiology and Chemical Genetics

Our laboratory is interested in understanding emergent properties of complex biological networks at a molecular level. Specifically, we are interested in determining how adaptive homeostatic or allostatic properties such as energy balance and metabolic set points arise in complex multicellular animals, and in the multitude of extrinsic and intrinsic parameters that influence such properties during the lifespan of an animal. Implicit in our studies is the goal of finding new preventive and therapeutic strategies for the human diseases of metabolic dysregulation such as obesity and accelerated aging.

We employ the nematode C. elegans for our studies, an ideal model for systems-level analyses of energy balance networks and metabolic set-point regulation. We utilize a multidisciplinary approach using chemical biology, molecular genetics, proteomics and lipid profiling, pharmacology and neuroscience. The power of the C. elegans system allows the rapid discovery of new pathways that connect sensory function in the nervous system and other tissues, to metabolic actions in the periphery. Novel and conserved molecular candidates emerging from these studies will be tested in mammalian models. Our long-term goal is to understand the relative contributions of genetic, behavioral and environmental influences on complex physiological phenotypes.
---
Education
Ph.D. (Genetics), University of Missouri-Columbia, 2000
B.S. (Biology), Macquarie University, Sydney, Australia, 1996
---
Professional Experience
1996 – 2000: Ph.D., Dr. Stephen Alexander's laboratory, Division of Biological Sciences, University of Missouri-Columbia, MO
2001-2005: Postdoctoral Fellow, Dr. Bruce Conklin's laboratory, Gladstone Institutes, San Francisco, CA
2005-2009: Postdoctoral Fellow, Dr. Kaveh Ashrafi's laboratory, Department of Physiology, UCSF, CA
Co-mentor: Dr. Keith Yamamoto, Department of Cellular and Molecular Pharmacology, UCSF, CA
2010-present: Assistant Professor, Department of Chemical Physiology, The Scripps Research Institute, La Jolla, CA
---
Awards & Professional Activities
2011: Ray Thomas Edwards Foundation Recognition Award
2011: Expert Panel Member, Role of Environmental Chemicals in Diabetes and Obesity, NIEHS
2007 to 2012: National Institutes of Health - K99/R00 'Pathway to Independence' Fellow-to-Faculty Transition Award
2005 to 2007: Ellison Medical Foundation/American Federation for Aging Research - Senior Postdoctoral Fellowship
2002 to 2005: American Heart Association - Postdoctoral Fellowship
1996 to 1999: Australian Postgraduate Award - Predoctoral Fellowship
---
Selected Publications
Lee, B. H.; Liu, J.; Wong, D.; Srinivasan, S.; Ashrafi, K. Hyperactive neuroendocrine secretion causes size, feeding, and metabolic defects of c. Elegans bardet-biedl syndrome mutants. PLoS Biology 2011, 9, e1001219.
[View]
Srinivasan, S.; Sadegh, L.; Elle, I. C.; Christensen, A. G.; Faergeman, N. J.; Ashrafi, K. Serotonin regulates c-elegans fat and feeding through independent molecular mechanisms. Cell Metabolism 2008, 7, 533-544.
[View]
Conklin, B. R.; Hsiao, E. C.; Claeysen, S.; Dumuis, A.; Srinivasan, S.; Forsayeth, J. R.; Guettier, J. M.; Chang, W. C.; Pei, Y.; McCarthy, K. D.; Nissenson, R. A.; Wess, J.; Bockaert, J.; Roth, B. L. Engineering GPCR signaling pathways with RASSLs. Nature Methods 2008, 5, 673-678.
[View]
Kok, B. P.; Galmozzi, A.; Littlejohn, N. K.; Albert, V.; Godio, C.; Kim, W.; Kim, S. M.; Bland, J. S.; Grayson, N.; Fang, M. L.; Meyerhof, W.; Siuzdak, G.; Srinivasan, S.; Behrens, M.; Saez, E. Intestinal bitter taste receptor activation alters hormone secretion and imparts metabolic benefits. Molecular Metabolism 2018, 16, 76-87.
[View]
Srinivasan, S.; Santiago, P.; Lubrano, C.; Vaisse, C.; Conklin, B. R. Engineering the melanocortin-4 receptor to control constitutive and ligand-mediated g(s) signaling in vivo. PLoS One 2007, 2, e668.
[View]
Govaerts, C.; Srinivasan, S.; Shapiro, A.; Zhang, S. M.; Picard, F.; Clement, K.; Lubrano-Berthelier, C.; Vaisse, C. Obesity-associated mutations in the melanocortin 4 receptor provide novel insights into its function. Peptides 2005, 26, 1909-1919.
[View]
Srinivasan, S.; Lubrano-Berthelier, C.; Govaerts, C.; Picard, F.; Santiago, P.; Conklin, B. R.; Vaisse, C. Constitutive activity of the melanocortin-4 receptor is maintained by its n-terminal domain and plays a role in energy homeostasis in humans. Journal of Clinical Investigation 2004, 114, 1158-1164.
[View]