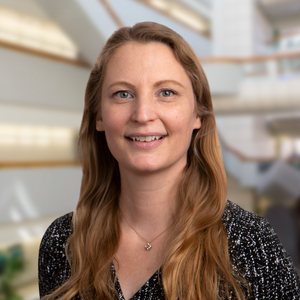 Silke Paust, PhD
Email
---
Scripps Research Joint Appointments
---
Other Joint Appointments
Member, San Diego Center for Precision Immunotherapy In the Moores Cancer Center
---
Research Focus
Members of the Paust laboratory are interested in the development and testing of novel immunotherapies that elicit clinically relevant Natural Killer cell-mediated anti-pathogen or anti-tumor immunity. Our research program is centered on the discovery that subsets of NK cells are long-lived and capable of antigen-specific immunological memory to viruses and altered self, giving precedence to investigations that seek to exploit NK cell activity to prevent or cure disease. Currently, we are pursuing three specific scientific goals: 1) Identification of the mechanisms by which subsets of murine and human NK cells mediate antigen-specific immunological memory responses; 2) Identification of NK cell-specific immune correlates of protection from infection or malignancy; 3) Development of effective, host-protective vaccine or therapeutic approaches that elicit potent NK cell-mediated recall responses in vivo. To enable our studies, we routinely utilize mouse models, xenograft models, and clinical samples for the immunological analyses of innate and adaptive NK cell-mediated immune responses.
---
Education
Ph.D. (Immunology), Harvard University, 2005
M.S. (Immunology), Washington University School of Medicine, 2000
B.S. (Biochemistry), University of Wisconsin-Madison, 1997
---
Professional Experience
2018-2018 Faculty Member Adjunct, Baylor College of Medicine
2013-2018 Faculty Member, Baylor College of Medicine
2012-2013 Instructor, Medical School, Harvard University
2010-2011 Postdoctoral Research Fellow, Ragon Institute of MGH, MIT and Harvard
2006-2011 Postdoctoral Research Fellow, Harvard University
2005-2006 Postdoctoral Research Fellow, Dana-Farber/Harvard Cancer Center
---
Awards & Professional Activities
Honors and Awards
2004 The Hauser Award for outstanding achievement in scientific research and teaching throughout graduate school training, Harvard University, Boston, MA.
2007-2009 Postdoctoral Fellowship of the Irvington Institute Fellowship Program of the Cancer Research Institute, New York, NY.
2008 Keystone Symposia Fellowship: NK and NKT cell biology, Keystone, CO.
2010 Harvard Medical School Travel Fellowship; Harvard Medical School, Boston, MA.
2010-2011 Postdoctoral Fellowship of the Ragon Institute of MIT, MGH and Harvard, Boston, MA.
2012 Travel award: NK2012 meeting of the Society of Natural Immunity, Asilomar, CA.
2012-2013 T32 NIH training grant, Transfusion Biology and Cellular Therapies.
2014 Women & Diversity Paper of the Year Award from the Society of Leukocyte Biology & FASEB, for the most highly cited publication in innate immunity of the past five years.

Organization of National or International Meetings
2012 Member of the local organizing committee, AIDS vaccine 2012, Boston, MA
2016 – 2017 Member of the scientific organizing committee, A Symposium on Synthetic Immunity, July 10 - 14, 2017 Santa Fe, NM
2017 – 2018 Organizer, NK2018 - The 17th meeting of the Society for Natural Immunity; May 28-June 1, 2018; San Antonio, TX
2018 – 2019 Member of the scientific organizing committee, July 28th – 31st, Immunology Of Human Diseases Symposium 2019, Santa Fe, NM
---
Selected References
1: Angelo LS, Bimler LH, Nikzad R, Aviles-Padilla K, Paust S. CXCR6(+) NK Cells
in Human Fetal Liver and Spleen Possess Unique Phenotypic and Functional
Capabilities. Front Immunol. 2019 Mar 19;10:469. doi: 10.3389/fimmu.2019.00469.
eCollection 2019. PubMed PMID: 30941128; PubMed Central PMCID: PMC6433986.


2: You R, DeMayo FJ, Liu J, Cho SN, Burt BM, Creighton CJ, Casal RF, Lazarus DR, 
Lu W, Tung HY, Yuan X, Hill-McAlester A, Kim M, Perusich S, Cornwell L, Rosen D, 
Song LZ, Paust S, Diehl G, Corry D, Kheradmand F. IL17A Regulates Tumor Latency
and Metastasis in Lung Adeno and Squamous SQ.2b and AD.1 Cancer. Cancer Immunol
Res. 2018 Jun;6(6):645-657. doi: 10.1158/2326-6066.CIR-17-0554. Epub 2018 Apr 13.
PubMed PMID: 29653981; PubMed Central PMCID: PMC6342490.


3: Vogt MB, Lahon A, Arya RP, Kneubehl AR, Spencer Clinton JL, Paust S,
Rico-Hesse R. Mosquito saliva alone has profound effects on the human immune
system. PLoS Negl Trop Dis. 2018 May 17;12(5):e0006439. doi:
10.1371/journal.pntd.0006439. eCollection 2018 May. PubMed PMID: 29771921; PubMed
Central PMCID: PMC5957326.


4: Liang D, Tian L, You R, Halpert MM, Konduri V, Baig YC, Paust S, Kim D, Kim S,
Jia F, Huang S, Zhang X, Kheradmand F, Corry DB, Gilbert BE, Levitt JM, Decker
WK. AIMp1 Potentiates T(H)1 Polarization and Is Critical for Effective Antitumor 
and Antiviral Immunity. Front Immunol. 2018 Jan 15;8:1801. doi:
10.3389/fimmu.2017.01801. eCollection 2017. PubMed PMID: 29379495; PubMed Central
PMCID: PMC5775236.


5: Moreno-Smith M, Lakoma A, Chen Z, Tao L, Scorsone KA, Schild L, Aviles-Padilla
K, Nikzad R, Zhang Y, Chakraborty R, Molenaar JJ, Vasudevan SA, Sheehan V, Kim
ES, Paust S, Shohet JM, Barbieri E. p53 Nongenotoxic Activation and mTORC1
Inhibition Lead to Effective Combination for Neuroblastoma Therapy. Clin Cancer
Res. 2017 Nov 1;23(21):6629-6639. doi: 10.1158/1078-0432.CCR-17-0668. Epub 2017
Aug 18. PubMed PMID: 28821555; PubMed Central PMCID: PMC5959272.


6: Paust S, Blish CA, Reeves RK. Redefining Memory: Building the Case for
Adaptive NK Cells. J Virol. 2017 Sep 27;91(20). pii: e00169-17. doi:
10.1128/JVI.00169-17. Print 2017 Oct 15. Review. PubMed PMID: 28794018; PubMed
Central PMCID: PMC5625515.


7: Decker WK, da Silva RF, Sanabria MH, Angelo LS, Guimarães F, Burt BM,
Kheradmand F, Paust S. Cancer Immunotherapy: Historical Perspective of a Clinical
Revolution and Emerging Preclinical Animal Models. Front Immunol. 2017 Aug
2;8:829. doi: 10.3389/fimmu.2017.00829. eCollection 2017. Review. PubMed PMID:
28824608; PubMed Central PMCID: PMC5539135.


8: da Silva RF, Yoshida A, Cardozo DM, Jales RM, Paust S, Derchain S, Guimarães
F. Natural Killer Cells Response to IL-2 Stimulation Is Distinct between Ascites 
with the Presence or Absence of Malignant Cells in Ovarian Cancer Patients. Int J
Mol Sci. 2017 May 17;18(5). pii: E856. doi: 10.3390/ijms18050856. PubMed PMID:
28513532; PubMed Central PMCID: PMC5454809.


9: Tao W, Hurst BL, Shakya AK, Uddin MJ, Ingrole RS, Hernandez-Sanabria M, Arya
RP, Bimler L, Paust S, Tarbet EB, Gill HS. Consensus M2e peptide conjugated to
gold nanoparticles confers protection against H1N1, H3N2 and H5N1 influenza A
viruses. Antiviral Res. 2017 May;141:62-72. doi: 10.1016/j.antiviral.2017.01.021.
Epub 2017 Feb 2. PubMed PMID: 28161578; PubMed Central PMCID: PMC5572660.


10: Mace EM, Bigley V, Gunesch JT, Chinn IK, Angelo LS, Care MA, Maisuria S,
Keller MD, Togi S, Watkin LB, LaRosa DF, Jhangiani SN, Muzny DM, Stray-Pedersen
A, Coban Akdemir Z, Smith JB, Hernández-Sanabria M, Le DT, Hogg GD, Cao TN, Freud
AG, Szymanski EP, Savic S, Collin M, Cant AJ, Gibbs RA, Holland SM, Caligiuri MA,
Ozato K, Paust S, Doody GM, Lupski JR, Orange JS. Biallelic mutations in IRF8
impair human NK cell maturation and function. J Clin Invest. 2017 Jan
3;127(1):306-320. doi: 10.1172/JCI86276. Epub 2016 Nov 28. PubMed PMID: 27893462;
PubMed Central PMCID: PMC5199714.


11: Bissig KD, Paust S, Barzi M. Liver is liver and blood is blood, and finally
the twain have met. J Hepatol. 2016 Aug;65(2):245-8. doi:
10.1016/j.jhep.2016.05.018. Epub 2016 May 21. PubMed PMID: 27221221.


12: Konduri V, Li D, Halpert MM, Liang D, Liang Z, Chen Y, Fisher WE, Paust S,
Levitt JM, Yao QC, Decker WK. Chemo-immunotherapy mediates durable cure of
orthotopic Kras(G12D)/p53(-/-) pancreatic ductal adenocarcinoma. Oncoimmunology. 
2016 Jul 22;5(9):e1213933. eCollection 2016. PubMed PMID: 27757308; PubMed
Central PMCID: PMC5048769.


13: Sekine T, Marin D, Cao K, Li L, Mehta P, Shaim H, Sobieski C, Jones R, Oran
B, Hosing C, Rondon G, Alsuliman A, Paust S, Andersson B, Popat U, Kebriaei P,
Muftuoglu M, Basar R, Kondo K, Nieto Y, Shah N, Olson A, Alousi A, Liu E,
Sarvaria A, Parmar S, Armstrong-James D, Imahashi N, Molldrem J, Champlin R,
Shpall EJ, Rezvani K. Specific combinations of donor and recipient KIR-HLA
genotypes predict for large differences in outcome after cord blood
transplantation. Blood. 2016 Jul 14;128(2):297-312. doi:
10.1182/blood-2016-03-706317. Epub 2016 May 31. PubMed PMID: 27247137; PubMed
Central PMCID: PMC4946205.


14: Halpert MM, Konduri V, Liang D, Chen Y, Wing JB, Paust S, Levitt JM, Decker
WK. Dendritic Cell-Secreted Cytotoxic T-Lymphocyte-Associated Protein-4 Regulates
the T-cell Response by Downmodulating Bystander Surface B7. Stem Cells Dev. 2016 
May 15;25(10):774-87. doi: 10.1089/scd.2016.0009. Epub 2016 May 2. PubMed PMID:
26979751; PubMed Central PMCID: PMC4870609.


15: Paust S, Bettini M. Daring to learn from humanized mice. Blood. 2015 Jun
18;125(25):3829-31. doi: 10.1182/blood-2015-04-639435. PubMed PMID: 26089378.


16: Riol-Blanco L, Ordovas-Montanes J, Perro M, Naval E, Thiriot A, Alvarez D,
Paust S, Wood JN, von Andrian UH. Nociceptive sensory neurons drive
interleukin-23-mediated psoriasiform skin inflammation. Nature. 2014 Jun
5;510(7503):157-61. doi: 10.1038/nature13199. Epub 2014 Apr 23. PubMed PMID:
24759321; PubMed Central PMCID: PMC4127885.


17: Majewska-Szczepanik M, Paust S, von Andrian UH, Askenase PW, Szczepanik M.
Natural killer cell-mediated contact sensitivity develops rapidly and depends on 
interferon-α, interferon-γ and interleukin-12. Immunology. 2013
Sep;140(1):98-110. doi: 10.1111/imm.12120. PubMed PMID: 23659714; PubMed Central 
PMCID: PMC3809710.


18: Paust S, von Andrian UH. Natural killer cell memory. Nat Immunol. 2011
Jun;12(6):500-8. Review. PubMed PMID: 21739673.


19: Paust S, Gill HS, Wang BZ, Flynn MP, Moseman EA, Senman B, Szczepanik M,
Telenti A, Askenase PW, Compans RW, von Andrian UH. Critical role for the
chemokine receptor CXCR6 in NK cell-mediated antigen-specific memory of haptens
and viruses. Nat Immunol. 2010 Dec;11(12):1127-35. doi: 10.1038/ni.1953. Epub
2010 Oct 24. PubMed PMID: 20972432; PubMed Central PMCID: PMC2982944.


20: Paust S, Senman B, von Andrian UH. Adaptive immune responses mediated by
natural killer cells. Immunol Rev. 2010 May;235(1):286-96. doi:
10.1111/j.0105-2896.2010.00906.x. Review. PubMed PMID: 20536570; PubMed Central
PMCID: PMC2911633.


21: Paust S, Cantor H. Regulatory T cells and autoimmune disease. Immunol Rev.
2005 Apr;204:195-207. Review. PubMed PMID: 15790360.


22: McCarty N, Paust S, Ikizawa K, Dan I, Li X, Cantor H. Signaling by the kinase
MINK is essential in the negative selection of autoreactive thymocytes. Nat
Immunol. 2005 Jan;6(1):65-72. Epub 2004 Dec 19. Erratum in: Nat Immunol. 2005
Feb;6(2):219. PubMed PMID: 15608642.


23: Paust S, Lu L, McCarty N, Cantor H. Engagement of B7 on effector T cells by
regulatory T cells prevents autoimmune disease. Proc Natl Acad Sci U S A. 2004
Jul 13;101(28):10398-403. Epub 2004 Jul 2. PubMed PMID: 15235129; PubMed Central 
PMCID: PMC478583.


24: Plas DR, Williams CB, Kersh GJ, White LS, White JM, Paust S, Ulyanova T,
Allen PM, Thomas ML. Cutting edge: the tyrosine phosphatase SHP-1 regulates
thymocyte positive selection. J Immunol. 1999 May 15;162(10):5680-4. PubMed PMID:
10229799.


25: Blasioli J, Paust S, Thomas ML. Definition of the sites of interaction
between the protein tyrosine phosphatase SHP-1 and CD22. J Biol Chem. 1999 Jan
22;274(4):2303-7. PubMed PMID: 9890995.





---
Links
San Diego Center for Precision Immunotherapy In the Moores Cancer Center