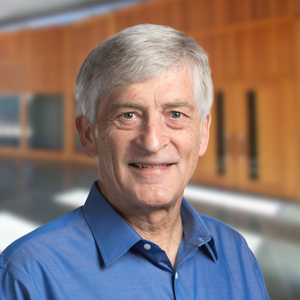 James Paulson, PhD
Email
---
Scripps Research Joint Appointments
---
Research Focus
Carbohydrate Binding Proteins in Regulation Of Immune Function

Carbohydrate binding proteins are increasingly recognized to mediate key aspects of cell trafficking and cell signaling in the immune system. At least three families of carbohydrate binding proteins are known to mediate cellular communication among leukocytes. The siglec family now has thirteen members which are expressed on the surface of various white blood cells (e.g. B cells, NK cells, eosinophils, monocytes etc.), and all recognize sialic acid (NeuAc) containing carbohydrate ligands. The best understood for its function is CD22 (siglec-2), which is known to be a negative regulator of B cell receptor signaling. The carbohydrate ligand of CD22 is the sequence NeuAca2,6Gal on N-linked oligosaccharides of glycoproteins. It is required for normal CD22 function since its absence in mutant mice results in marked immuno-suppression in response to vaccination. Our goal is to elucidate the roles of siglec receptors in immune function, and to define biochemical basis for how the interaction with their carbohydrate ligands modulate their function.
---
Education
Ph.D., Biochemistry, University of Illinois at Urbana-Champaign
M.S., Biochemistry, University of Illinois at Urbana-Champaign
A.B., Chemistry/Biology, MacMurray College
---
Professional Experience
Dept. of Biochemistry, Duke University, Postdoctoral Fellow 1974-1978; Dept. of Biol. Chem., Univ. California Los Angeles, Assistant Professor 1978-1981, Associate Professor 1981-1985, Professor and Vice Chair 1985-1990; Cytel Corporation, V.P. Research Development and Board of Directors 1990-1996, Chief Scientific Officer and General Manager and Board of Directors 1996-1999; The Scripps Research Institute, Professor, Depts. of Chemical Physiology and Molecular Biology 1999-2012, Chairman and Professor, Department of Cell and Molecular Biology 2013-2014, Acting President & CEO 2014-2015, Cecil H. and Ida Green Professor and Chairman 2015-2017. Cecil H. and Ida Green Professor and Co-Chair 2017 to present.
---
Awards & Professional Activities
Activities: Members Advisory Board, Florida Inventors Hall of Fame (2015 to present); Members Board of Directors, Sanford Consortium for Regenerative Medicine (2014 to present); Chair, ACS Division of Carbohydrate Chemistry (2013-2014); National Academy of Sciences Glycoscience Committee (2011-2012); Principle Investigator/Director, Consortium Functional Glycomics, http://www.functionalglycomics.org (2001-2012); Co-chair Human Glycomics/Proteomics Initiative (HGPI), http://www.hgpi.jp (2005-present); President, The Society for Glycobiology (2002-2003); Editorial board, Glycobiology (1990-present); Scientific Advisory Boards: Neose Technologies Inc (1999-2008), Virdante Pharmaceuticals Inc. (2007-2011), Zacharon (2006-2009), Nexbio (2004-present), Alberta Ingenuity Center for Carbohydrate Science-AICCS, (2003-present), Institute for Biological Sciences-IBS, NRC, Ottawa (2004-present), Joint Center for Structural Genomics-JCSG, PSI Biology (2005-present), and the Boston University Mass Spectrometry Resource, (2006-present)
Awards: United States EPA Green Chemistry Challenge Award, 2000; Barnett Lecture, 2008; Bijvoet Medal, 2008; Karl Meyer Award, 2009; Melville L. Wolfrom Award, 2016; American Association for the Advancement of Science (AAAS) Fellow 2016.
---
Selected References
A complete list of publications can be viewed at https://www.scripps.edu/paulson/publications.html
Also available listing at Google Scholar
Peng W, de Vries RP, Grant OC, Thompson AJ, McBride R, Tsogtbaatar B, Lee PS, Razi N, Wilson IA, Woods RJ, Paulson JC. (2017) Recent H3N2 Viruses Have Evolved Specificity for Extended, Branched Human-type Receptors, Conferring Potential for Increased Avidity. Cell Host Microbe. 21(1):23-34.
Cao L, Diedrich JK, Kulp DW, Pauthner M, He L, Park S-KR, Sok D, Su CY, Delahunty CM, Menis S, Andrabi R, Guenaga J, Georgeson E, Kubitz M, Adachi Y, Burton DR, Schief WR, Yates III JR, Paulson JC. (2017) Global site-specific N-glycosylation analysis of HIV envelope glycoprotein. Nat Commun. 8:14954
de Vries RP, Peng W, Grant OC, Thompson AJ, Zhu X, Bouwman KM, de la Pena ATT, van Breemen MJ, Ambepitiya Wickramasinghe IN, de Haan CAM, Yu W, McBride R, Sanders RW, Woods RJ, Verheije MH, Wilson IA, Paulson JC. (2017) Three mutations switch H7N9 influenza to human-type receptor specificity. PLoS Pathog. 13(6):e1006390.
Macauley MS, Kawasaki N, Peng W, Wang SH, He Y, Arlian BM, McBride R, Kanagi R, Khoo KH, Paulson JC. (2015) Unmasking of CD22 on germinal center B-cells occurs by alternative mechanisms in mouse and man. J Biol Chem. 290(50):30066-77.
Macauley MS, Crocker PR, Paulson JC. (2014) Siglec-mediated regulation of immune cell function in disease. Nat Rev Immunol. (10):653-66.
Stowell SR, Arthur CM, McBride R, Berger O, Razi N, Heimburg-Molinaro J, Rodrigues LC, Gourdine JP, Noll AJ, von Gunten S, Smith DF, Knirel YA, Paulson JC, Cummings RD. (2014) Microbial glycan microarrays define key features of host-microbial interactions. Nat Chem Biol. 10:470-476.

de Vries RP, Zhu X, McBride R, Rigter A, Hanson A, Zhong G, Hatta M, Xu R, Yu W, Kawaoka Y, de Haan CA, Wilson IA, Paulson JC. (2014) Hemagglutinin receptor specificity and structural analyses of respiratory droplet transmissible H5N1 viruses. J Virol. 88(1):768-773.

Macauley MS, Arlian BM, Rillahan CD, Pang PC, Bortell N, Marcondes MC, Haslam SM, Dell A, Paulson JC. (2014) Systemic blockade of sialylation in mice with a global inhibitor of sialyltransferases. J Biol Chem. 289(51):35149-58.

Macauley MS, Pfrengle F, Rademacher C, Nycholat CM, Gale AJ, von Drygalski A, Paulson JC. (2013) Antigenic liposomes displaying CD22 ligands induce antigen-specific B cell apoptosis. J Clin Invest. 123(7):3074-3083.
Wang Z, Chinoy ZS, Ambre SG, Peng W, McBride R, de Vries RP, Glushka J, Paulson JC, Boons GJ. (2013) A General Strategy for the Chemoenzymatic Synthesis of Asymmetrically Branched N-Glycans. Science. 341(6144):379-383.
Rillahan CD, Schwartz E, Rademacher C, McBride R, Rangarajan J, Fokin VV, Paulson JC. (2013) On-Chip Synthesis and Screening of a Sialoside Library Yields a High Affinity Ligand for Siglec-7. ACS Chem Biol. 8(7):1417-1422.
Kawasaki N, Vela JL, Nycholat CM, Rademacher C, Khurana A, van Rooijen N, Crocker PR, Kronenberg M, Paulson JC. (2013) Targeted delivery of lipid antigen to macrophages via the CD169/sialoadhesin endocytic pathway induces robust invariant natural killer T cell activation. Proc Natl Acad Sci U S A. 110(19):7826-31.
Pfrengle F, Macauley MS, Kawasaki N, Paulson JC. (2013) Copresentation of Antigen and Ligands of Siglec-G Induces B Cell Tolerance Independent of CD22. J Immunol. 191(4):1724-1731.
Rillahan CD, Antonopoulos A, Lefort CT, Sonon R, Azadi P, Ley K, Dell A, Haslam SM, Paulson JC. (2012) Global metabolic inhibitors of sialyl- and fucosyltransferases remodel the glycome. Nat Chem Biol. 8:661-668.
Rillahan CD, Schwartz E, McBride R, Fokin VV, Paulson JC. (2012) Click and Pick: Identification of Sialoside Analogues for Siglec-Based Cell Targeting. Angew Chem Int Ed Engl. 51(44):11014-18.
Nycholat CM, McBride R, Ekiert DC, Xu R, Rangarajan J, Peng W, Razi N, Gilbert M, Wakarchuk W, Wilson IA, Paulson JC. (2012) Recognition of Sialylated Poly-N-acetyllactosamine Chains on N- and O-Linked Glycans by Human and Avian Influenza A Virus Hemagglutinins. Angew Chem Int Ed Engl. 51(20):4860-63.
Chen WC, Completo GC, Sigal DS, Crocker PR, Saven A, Paulson JC. (2010) In vivo targeting of B-cell lymphoma with glycan ligands of CD22. Blood. 115(23):4778-86.
---
Links
After the Genome, Part 2 : The Study of the Glycome