Source: Interfolio F180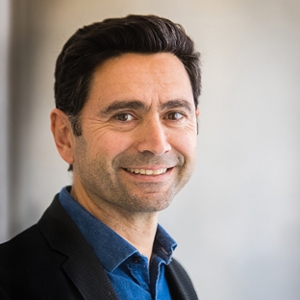 Ardem Patapoutian
Email
---
Research Focus
The sense of touch is unique in perceiving stimuli both physical (temperature, mechanical) and chemical (compounds that cause pain, itch, et cetera) in nature. In each modality, touch neurons distinguish noxious (painful) from innocuous stimuli, and the sensitization of touch neurons in response to injury and inflammation is the basis for many clinically-relevant chronic pain states. The molecules that mediate detection of touch stimuli have been a long-standing mystery. Our lab has identified and characterized ion channels activated by distinct changes in thermal energy (in the noxious to innocuous range), thus functioning as the molecular thermometers of our body. A subset of these same ion channels also act as polymodal chemosensors, playing an essential role in pain and inflammation. Small molecule antagonists of TRPA1, one of the ion channels identified in the Patapoutian lab, are currently in phase I clinical studies.

Mechanotransduction is perhaps the last sensory modality to be understood at the molecular level. Ion channels that sense mechanical force are postulated to play critical roles in sensing touch/pain (somatosensation), sound (hearing), sheer stress (cardiovascular tone), and more; however, the identity of such ion channels has remained elusive. We recently identified Piezo1 and Piezo2, mechanically-activated cation channels that are expressed in many mechanosensitive cell types. Current efforts focus on understanding structure-function relationships of Piezo proteins and elucidating their physiological roles in biological processes and diseases that involve mechanotransduction. We are also searching for novel ion channels involved in thermosenation and mechanosensation.
---
Education
Ph.D. (Biology), California Institute of Technology, 1996
B.S. (Cellular & Development Biology), University of California, Los Angeles, 1990
---
Professional Experience
Howard Hughes Medical Institute (HHMI) Investigator, 2014-present
Department of Molecular and Cellular Neuroscience, Dorris Neuroscience Center, The Scripps Research Institute, La Jolla, CA, 2000-present.
The Scripps Research Institute, La Jolla, CA, Professor, 2008-present; Associate Professor, 2005-2008; Assistant Professor, 2000-2005
Adjunct Professor, Neuroscience program, University of California, San Diego, La Jolla, CA 2001-present
Genomics Institute of the Novartis Research Foundation, San Diego, CA, 2000-2014
Director of Discovery Research, 2006-2014
Head of Neuroscience,Discovery Research, 2002-2005
Staff Scientist,Discovery Research, 2000-2003
---
Awards & Professional Activities
1996 Postdoctoral Fellowship, Damon Runyan-Walter Winchell Cancer Research Foundation
2001 Basil O'Connor Starter Scholar Research Award, March of Dimes Birth Defects Foundation
2003 Damon Runyan Scholar Award
2006 Young Investigator Award, Society for Neuroscience
2017 Alden W. Spencer Award, Columbia University
2017 
Elected Member, National Academy of Sciences (NAS)
2019 
Rosenstiel Award for Distinguished Work in Basic Medical Research, Brandeis University
2016 
Elected Fellow, American Association for the Advancement of Science (AAAS)
2020 
Elected Member, American Academy of Arts and Sciences (AAAS)
2020 
The Kavli Award for Neuroscience, The Kavli Foundation
2021 
Frontiers of Knowledge Award in Biology and Biomedicine, BBVA Foundation
2021 
Nobel Prize in Physiology or Medicine, Nobel Foundation
2022 
Physiology Society Fellowship
2022 
Congressional Record from House of Representatives
2022 
The Order of St. Mesrop Mashtots, Prime Minister of Republic of Armenia
2022 
Honorary Doctor, Yerevan State University, Armenia
2022 
Honorary Professor, Yerevan State University, Armenia
2022 
Honorary Member, National Academy of Sciences, Republic of Armenia
2022 
Honorary Doctorate, Scripps Research
2022 
Honorary Member, International Association for the Study of Pain (IASP)
2022 
Honorary Fellow, Physiological Society of Great Britain
2022 Great Immigrant, Great American 2022, Carnegie Corporation of New York
---
Selected Publications
Mulhall, E. M.; Gharpure, A.; Lee, R. M.; Dubin, A. E.; Aaron, J. S.; Marshall, K. L.; Spencer, K. R.; Reiche, M. A.; Henderson, S. C.; Chew, T.; Patapoutian, A. S. Direct observation of the conformational states of PIEZO1. Nature 2023.
[View]
Servin-Vences, M. R.; Lam, R. M.; Koolen, A.; Wang, Y.; Saade, D. N.; Loud, M.; Kacmaz, H.; Frausto, S.; Zhang, Y.; Beyder, A.; Marshall, K. L.; Bönnemann, C. G.; Chesler, A. T.; Patapoutian, A. PIEZO2 in somatosensory neurons controls gastrointestinal transit. 2023, 186, 3386-3399.e15.
[View]
Patapoutian, A.; Ma, S.; Dubin, A.; Romero, L.; Loud, M.; Salazar, A.; Chu, S.; Klier, N.; Masri, S.; Zhang, Y.; Wang, Y.; Chesler, A.; Wilkinson, K.; Vásquez, V.; Marshall, K. Excessive mechanotransduction in sensory neurons causes joint contractures. Science 2023, 379, 201-206.
[View]
Hill, R. Z.; Loud, M. C.; Dubin, A. E.; Peet, B.; Patapoutian, A. PIEZO1 transduces mechanical itch in mice. 2022, 607, 104-110.
[View]
Ma, S.; Dubin, A. E.; Zhang, Y.; Mousavi, S.; Wang, Y.; Coombs, A. M.; Loud, M.; Andolfo, I.; Patapoutian, A. A role of PIEZO1 in iron metabolism in mice and humans. American journal of human genetics 2021, 184, 969-982.e13.
[View]
Marshall, K. L.; Saade, D.; Ghitani, N.; Coombs, A. M.; Szczot, M.; Keller, J.; Ogata, T.; Daou, I.; Stowers, L. T.; Bönnemann, C. G.; Chesler, A. T.; Patapoutian, A. PIEZO2 in sensory neurons and urothelial cells coordinates urination. Nature 2020, 588, 290-295.
[View]