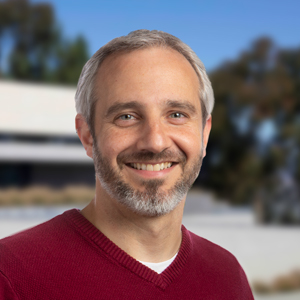 Gabriel Lander, PhD
Email
---
Scripps Research Joint Appointments
---
Research Focus
Our current research focuses on discovering the molecular mechanisms that maintain neuronal integrity. Our limited ability to treat diseases such as Alzheimer's, Parkinson's, Lou Gehrig's, and Huntington's stems from the fact that our molecular understanding of the fundamental events that trigger the onset of these diseases is severely limited. Using multi-scale high-resolution 3D imaging, we are determining the precise neuronal mechanisms that are involved in maintaining neuronal integrity. By determining the structures of the machinery involved in these processes, we are gaining substantial insight into the molecular relationships that give rise to normal neuronal function, which is the first step in understanding progression of neurological disease.
One of the avenues my lab is exploring centers on the underlying mechanisms by which small molecular motors are responsible for transport of nutrients within neurons. Importantly, these motors are involved in clearing away the dangerous protein aggregates that are associated with a large number of neurodegenerative diseases. These same motors are also required for a variety of cellular processes, including cell division. Using cryo-electron microscopy, we are outlining the interplay between molecular motors and microtubules, and pinpoint events that lead to the manifestation of neurodegeneration. Importantly, these studies will provide the critical structural data that could one day deliver new avenues to treat these diseases.

Another focus of my lab is the manner in which unwanted intracellular proteins are recognized and degraded by the 26S proteasome. Although the overall subunit organization of the proteasome has been determined, there are many questions surrounding the manner in which substrates are recognized by or transported to the proteasome, as well as how targeted proteins are unfolded and translocated to the proteolytic chamber. The answers to these questions would significantly improve our understanding of proteasome's role in cellular homeostatis, potentially revealing novel approaches to detect and suppress the onset of tumorigenesis and neurodegeneration.
---
Education
Ph.D. (Biophysics), Scripps Research, 2009
B.S. (Biochemistry; Computer Science (minor)), Binghamton University, 2002
---
Professional Experience
2017-2019 Associate Professor, Integrative Structural and Computational Biology (ISCB), Scripps Research
2013-2017 Assistant Professor, Integrative Structural and Computational Biology (ISCB), Scripps Research
2009-2013 Postdoctoral Fellow with Dr. Eva Nogales, University of California, Berkeley
2003-2004 Intern, Scripps Research
2003-2004 Genome Curator, Carnegie Institution (TAIR), Stanford University
---
Awards & Professional Activities
Dale F. Frey Award for Breakthrough Scientists (Damon Runyon Cancer Research Foundation, 2013)
Searle Scholar Award (2014)
Pew Scholar Award (2014)
NIH New Innovator Award (2014)
---
Selected References
Chowdhury, S. et al. Structure Reveals Mechanisms of Viral Suppressors that Intercept a CRISPR RNA-Guided Surveillance Complex. Cell 169, 47-57 (2017)

Matyskiela, M. et al. A novel cereblon modulator recruits GSPT1 to the CRL4(CRBN) ubiquitin ligase. Nature 535, 252-7 (2016)
Zubcevic L, Herzik MA Jr, Chung BC, Liu Z, Lander GC, Lee SY. Cryo-electron microscopy structure of the TRPV2 ion channel. Nat Struct Mol Biol 23, 180-6 (2016)
Dambacher CM, Worden EJ, Herzik MA, Martin A, Lander GC. Atomic structure of the 26S proteasome lid reveals the mechanism of deubiquitinase inhibition. Elife 5 (2016)

Dambacher CM, Lander GC. Site-specific labeling of proteins for electron microscopy. J Struct Biol 192, 151-8 (2015)

Bashore C, Dambacher CM, Goodall EA, Matyskiela ME, Lander GC, Martin A. Ubp6 deubiquitinase controls conformational dynamics and substrate degradation of the 26S proteasome. Nat Struct Mol Biol 22, 712-9 (2015)

Matyskiela ME, Lander GC, Martin A. Conformational switching of the 26S proteasome enables substrate degradation. Nat Struct Mol Biol 20, 781-8 (2013)
Lander GC, Estrin E, Matyskiela ME, Bashore C, Nogales E, Martin A. Complete subunit architecture of the proteasome regulatory particle. Nature 482, 186-91 (2012)

Wiedenheft B, Lander GC, Zhou K, Jore MM, Brouns SJ, van der Oost J, Doudna JA, Nogales E. Structures of the RNA-guided surveillance complex from a bacterial immune system. Nature 477, 486-9 (2011)